Instagram on Your Mac with InstaDesk! (PhotoDesk)
---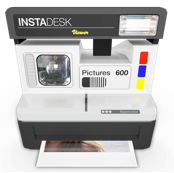 Being an avid Instagram user, I was excited to learn that there is a new client app for the social photo sharing service on the Mac. A third party app, called InstaDesk [UPDATE: Now titled] PhotoDesk - for Instagram (App Store link).
Since Instagram opened their API to the public, there have been several new options for third party Instagram clients or web interfaces. For example, on the iPad there is InfinitGallery - browse Instagram photos - InfinitApps (App Store link) and Flipboard: Your Social News Magazine - Flipboard Inc. (App Store link) which will allow you to access your Instagram account. There are several web interfaces available as well, my favorite has to be Webstagram.
With the exception of posting photos and applying filters, you can basically do everything you can do on the official Instagram app (currently only available for the iOS) and more using Instagram API. Again, the best example of implementing the API is probably Webstagram that I have seen so far. As good as Webstagram may be though, it is still a website, not an application.
Enter PhotoDesk - for Instagram from Benedikt Terhechte (App Store link) on your Mac. With this app, you can view your feed, popular photos, tags, see your followers and those you follow, comment on and "like" photos (when you do 'like' an image, an animated heart icon floats off the app), find users, download images, view photos in slideshows (with a selection of different transitions), see your news feed, share images via Twitter, Facebook, & email, and create your own albums (collections). They are all great and useful features to include in the app.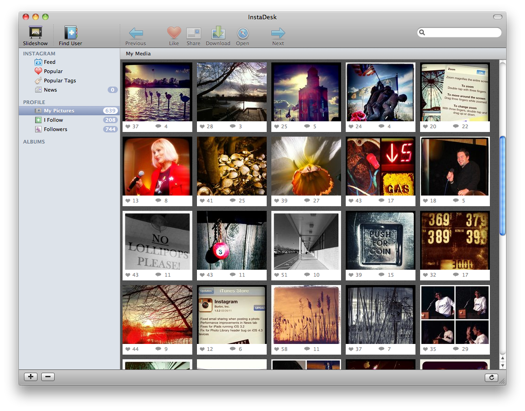 The images show up very quickly in the app, it seems very responsive, but I suppose this is dependent on Instagram itself. When I tested it, I didn't have any issues.
Now this is a version 1.0 release, so I hope there will be some improvements coming to the app in near future. As great as it is to have a Mac desktop client, I would hope it would do everything that Webstagram can do and currently it does not.
Here are some of my issues with the app so far after initial testing:
There is no way to unlike a photograph. You can easily accidentally "like" a photo by clicking on the image to see a larger view. But if you accidentally 'like' an image, there is no way that I can see to undo that.
If you have 'liked' a photo, there is no way of immediately knowing that you had. There is no red heart icon on the photo or beside it. You have no idea if you already liked a photo or not unless you check the list of people who liked the photo and search for your name. It is a very cumbersome way to do it. If you do try to like something you already liked, you will get an error sound. Still, I would rather that there would be a visual indicator that you had liked it already. Even if it is just the red heart icon in the tool bar goes gray or something.
While you can view and post comments, you cannot reply to a specific user(s). You have to manually type the @ reply to the user you are responding to, where you should be able to click a reply button or their user name to reply to that specific user. You can do it in Webstagram.
You cannot manage your comments. There is no way to delete comments you make or comments on your images. Again, this is something that can be done with Webstagram, so the API does allow it.
You cannot click the hashtags on the photos to see more photos using that hastag. The hashtags are listed, but they are not clickable. What's the point of listing the tags if you can't do anything with them? There is a Popular Tags section which displays clickable tags as well as allowing you to search for other tags not listed. Which is fine, but the tags on the images themselves should be clickable as well. Also not all the assigned tags are showing up with the other tags in each image.
Speaking of tags, it would be nice if it allowed you to save your favorite tags so you can easily search on those tags in the future without having to manually type them out each time. One way to implement this would be to use the Album feature in the app. You can create your own albums, but for each you need to manually add photos to it. Why not make "smart" albums which can pull in all images using a tag or a set of tags? That would be very useful.
When posting a comment, after typing it, hitting the enter or return key does not post them. You have to manually click the "Post Comment" button to post it. It would be nice to have the option to use the enter key to post. Though since you cannot delete your comment currently in the app, perhaps it is good that you have to manually click the post button.
The app has no support for Emoji characters. Granted, the Mac itself does not natively support the Emoji character set, so instead of seeing smiley faces and other glyphs, we just get strange characters. The app itself could translate them into Emoji, Webstagram does this so you can see the Emoji characters on their website.
The search bar is a welcome addition, but it doesn't seem to work properly. I tried searching my feed for an image description that I know used the word "bowl" in it. It appeared briefly when I did a search, but then the app reverted back to my entire feed.
The News feed seems to be broken. It is supposed refresh automatically every 2 minutes (you can change it), but I saw a new "liked" photo show up on my iPhone via push notification which did not show up in this app while I writing this review. Perhaps the News feed only handles new comments? I don't know. All I have is a blank screen now for it.
I would also like to see other features added, less important than the ones I listed above that are lacking, but to add to the wish list would be a way to easily manage your followers and those you follow, perhaps also see which are following you back as well.
Please note, as with all third parties that uses the Instagram API, it does not permit uploading images or applying Instagram filters. That can only be done with the Instagram app itself.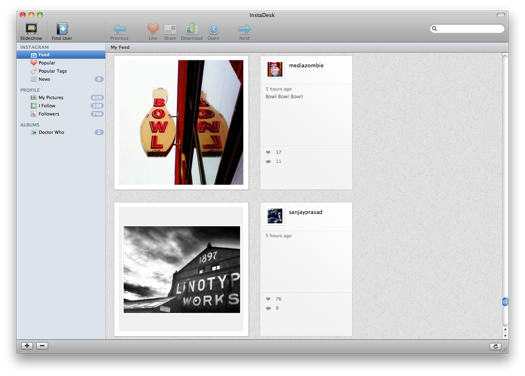 While it may seem like I am tearing apart this software, I am not. As I said, it is a 1.0 release, I can only hope that the above issues will be addressed in future updates. The app is only $1.99 currently, so for all the benefits it is offers, it is still a value. I only wish it would do everything that Webstagram can do currently using the same Instagram API. Hopefully it will soon. Even with its faults, if you are an Instagram user and a Mac user, it is well worth checking out.