You are hereJames Naughton
James Naughton
---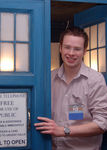 James Naughton has been a sci-fi fan for as long as he can remember. Growing up in the UK, he spent most of his early years cowering behind the sofa to the Daleks.
Always interested in technology, in early 2005 he started his own podcast, about everything and anything. This lead to involvement in various other shows, such as Rough, Ready and Raw and Doctor Who: Podshock. These days though, he prefers to invest his time podcasting solely about science fiction.
James is currently attempting to delay entering the 'real world' by studying for a PhD in physical chemistry. In his spare time he enjoys playing computer games, hill-walking, and running the odd marathon. When not podcasting, you can usually find him in one of (old) York's finest pubs; enjoying a pint or two of real ale.
James volunteered (2005-2011) his hosting time and expertise on both Doctor Who: Podshock and Hitchhiker's Guide to British Sci-Fi.