Bob May was a sweet guy
---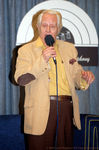 Bob May at Gallifrey 2008
I had the pleasure of meeting Bob May for the first time just last year while at the annual Doctor Who convention, Gallifrey 2008 in Los Angeles, CA. What was a Lost in Space actor doing there? Well of course there's plenty of cross-over interests among science fiction fans. I was told that May wanted to be there to continue to connect with fans.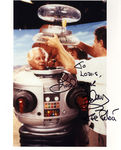 Bob May Autograph
Unfortunately, we did not sit down for an interview, but I did spend some time speaking with him there. He came across as a generous and kind gentleman. Even though his part as The Robot in Lost in Space ended 40 years ago, his enthusiasm about it had not diminished in that time. Even when he was not on stage doing a Q & A panel about his work, he was delighted to talk to people coming up to him asking about what it was like to don that Robot costume.
Although he did not voice the character (that distinctive voice is that of Dick Tufeld), fans still saw him as an iconic part of the series and delighted to see him at events such as conventions.
I was concerned for him when I learned this past autumn that his home was destroyed in the Los Angeles fires. It was shortly after that he suffered a stroke. Now, I am sadden to learn that this New York born actor, has passed away on Sunday, the 18th of January 2009 of congested heart failure. He was 69.
He is survived by his wife, son, daughter, and four grandchildren.