The 9th Doctor verses The Ninth Doctor!
---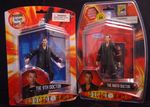 Comparing 9th Doctor Figures: Right: San Diego Comic Con exclusive, Left: less posable figure
If you are like me, you may be wondering just what are the differences between the two figures available depicting the 9th Doctor (as portrayed by Christopher Eccleston) from the Character Options (and Underground Toys) Doctor Who line up.
As much as I would love to collect all the wonderfully detailed Doctor Who figures coming from Character Options these days, I just can't afford to do so nor do I have the space for them all. But there are some that I do want, chiefly all the Doctors and some of the classic adversaries. When it came time to get a 9th Doctor figure, I realized I had two choices available to me, but there was very little information on just what are the difference between the two outside that of the color of the Doctor's jumper.
The versions I saw available were the 2008 San Diego Comic Con exclusive (from Character Options via Underground Toys), the other was simply the non-exclusive 9th Doctor figure. So, outside of the fact that the SD Comic Con version has a green jumper instead of black, what are the differences?
First off the packaging is different as you can see from the photo above (click on photos for larger view). The regular figure is named, "The 9th Doctor" whereas the SD Comic Con one has it spelled out as, "The Ninth Doctor." The other differences are fairly drastic. More so than I had originally thought before finding these two figures in February between NYCC and Gallifrey 20 (one may had been ordered previously actually). First off the regular version has the Doctor in a pose ready for action. The trouble is even though it has shoulder, elbow, and hip joints, you are fairly limited on what you can do with the pose. There are no knee joints so its knees make the Doctor look like he may have just jumped off a horse. His hands are unusually large and it looks like it was made to hold a sonic screwdriver. Fantastic. The only trouble is that there was no sonic screwdriver included with this figure. Due to shoulders having his arms stretched out, it does lend itself to the action pose it is striking, but its arms are forever raised as a result.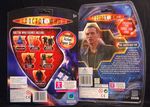 Packaging Back Design
The 2008 San Diego Comic Con exclusive (which is limited to a run of only 3000, though I have seen these on sale online at various venues, it seems supplies are still plentiful) is an improvement on the original figure. As stated earlier, he is sporting a green jumper which adds a little color to the figure that is otherwise completely black outside of the flesh-tones for most part. Both include the 9th Doctor's iconic leather jacket. This exclusive version has hands which are more reasonable in their size and once again looks like it can hold a sonic screwdriver, and in fact, this one includes a sonic screwdriver! Unlike the previous figure, it does have knee joints so he is not forever bowlegged. Also the shoulders joints have the arms more at rest. It also includes a free Top Trump card... which is pretty much a non-factor for me personally since I am not really into the trump cards. Sadly, the SD Comic Con exclusive figure is packaged in those dreadful blister packs which you need a scissor to open (it should be noted that most of the newer figures now do as well).
Both figures allow you to turn the Doctor's head in either direction.
Other versions? There is a double pack figure set, a regeneration set of the 9th and 10th Doctor (in the 9th Doctor's clothes). I don't have this set, but from what I can tell it is the same posed 9th Doctor from the non-SD Comic Con figure. Interesting though the back o the package of the regular figure shows a "Ninth Doctor" that looks more like the SD Comic Con exclusive version. So perhaps there is yet another version out there?
In conclusion, unless you are actually playing with the figures, the are both nice collectibles for display purposes. The original is striking with it's pose and it captures the energy of the 9th Doctor, but you are pretty much limited to the pose it has out of the package. Also his hands are noticeably oversized which is unfortunate because it draws attention that he is not holding a sonic screwdriver in a hand that looks like it should be holding one. If you can only get one figure, I would try to get the SD Comic Con exclusive because it is more diverse on what it can do, it has a sonic screwdriver, and has a bit more color. Whereas the original figure does have a more striking pose, but you're pretty much stuck with it (which is fine for display purposes). Or simply get them both (and don't keep them imprisoned inside their blister packages).
Coming soon, I will compare Captain Jack figures. One from Doctor Who and one from Torchwood.