You are hereNew Online Shops for Hitchhiker's Guide to British Sci-Fi and the Sonic Newsdriver Podcasts
New Online Shops for Hitchhiker's Guide to British Sci-Fi and the Sonic Newsdriver Podcasts
---
Now you can show the world you appreciate British science fiction and enjoy your Doctor Who related news delivered sonically by sporting new spiffy shirts, along with other fine swag sporting the cover art of your favourite podcasts!
No longer are you limited to only 10-15 minutes of the Sonic Newsdriver podcast or wait for the next episode of the Hitchhiker's Guide to British Sci-Fi podcast to relish in the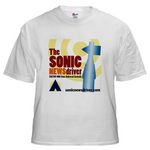 delights of these respective shows... with shirts, mugs, calendars, etc, you extend that joy to your hearts content. All the while you will also be supporting the podcasts.
Of course, much of this has been written with tongue partially planted in cheek, but it is true that a portion of the retail price of these products do go to help offset the expense of producing these podcasts.
Here's how you can get your podcast swag, visit both of the podcast's respective shops (see links below) for shirts and various other items sporting the podcast cover art. Stay tuned, more products will be coming soon.
-> Hitchhiker's Guide to British Sci-Fi Shop