Vengeance on Hoo on Who
---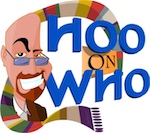 I was privileged to be a guest on the podcast, Hoo on Who. Host David Hooie invited me to join him in episode 8 of his fine show to review the 1985 Doctor Who story, Vengeance on Varos starring Colin Baker as the sixth Doctor. It was a little weird reviewing a Doctor Who story for a show other than Doctor Who: Podshock, nonetheless it was still a great deal of fun.
In addition to reviewing this classic story of Doctor Who which in many ways was a precursor depiction of today's 'reality TV' infesting television programming both in the UK and here in the US now, David and I also spoke about the Gallifreyan Embassy and its origins. It was a trip back to 1985 in more ways than one.
For some insights on the Vengeance on Varos DVD release and how the Gallifreyan Embassy went from a printed newsletter to an interactive website and an international podcast on Doctor Who, check out this episode of Hoo on Who and subscribe to its feed. David is a wonderful host and a well-spoken communicator. In each episode of his show, he reviews a Doctor Who DVD from the series' long history.
-> Hoo on Who
-> Hoo on Who (enhanced) on iTunes