You are hereAbout The Sonic Newsdriver Podcast
About The Sonic Newsdriver Podcast
---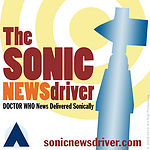 "Doctor Who related news, delivered to you sonically!"
A podcast with a focus on Doctor Who related news is presented in a format that makes it easy to digest with episodes running anywhere between 10 to 20 minutes in length presented in a witty and fun way.
Produced and hosted by Louis Trapani @LouisTrapani
Below are links to the feeds, promo, and more for The Sonic Newsdriver.