Just One More Round, Friend
---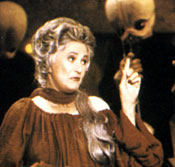 On Saturday the 25th of April 2009, almost a year after loosing Harvey Korman, we send a farewell to Bea Arthur he has died at the age of 86. I will always remember her for her groundbreaking role as the strong-willed iconic Maude character in the 1970's sitcom of the same name. You may remember her from The Golden Girls sitcom of a decade later. But she performed another role in the 1970's, 1978 to be exact which after Maude, for me she will be immortalized as, and unlike Maude, it has only been broadcast on television once, her role in the infamous Star Wars Holiday Special as Ackmena, the Cantina barmaid on Tatooine.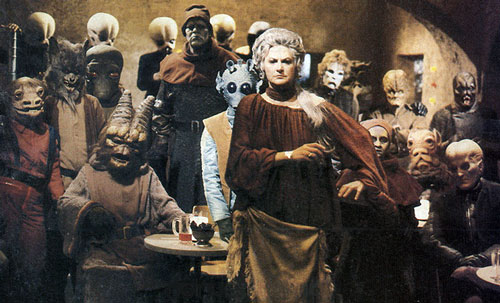 Yes, it is with good reason that George Lucas has not allowed this special to be broadcast again or for it to be released officially on any medium as of yet in the more than 30 years since it originally aired. Be that as it may, after the animated short in the special, perhaps the strongest asset going for the special were some of the guest performers appearing in it such as Bea Arthur along with Art Carney and Harvey Korman who in fact had a scene with Arthur right before her song number offering the patrons of the bar, "just one more round" before it's mandated shut down by the Empire. Clearly, not a role she will be remembered for by most people, nor not one that she considered as much at the time or thereafter, I would imagine, but for some of us young Star Wars fans at the time, it made a lasting impression.
Hat's off, raised mugs, and here's one more round, friend to toast Beatrice Arthur. She will be missed.
With the passing of Art Carney, then Harvey Korman, and now Bea Arthur, we are loosing all the giants of The Star Wars Holiday Special. I guess we will never get what would had been an amazing commentary track if this was ever to be released officially now (still seems doubtful it ever will be released, but you never know).
"Oh, come on now. Drink up. There's plenty more where that came from."