May the Fourth Not Be With You
---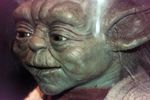 I really need to be careful that I do not turn into a grumpy, old cranky fan. Sometimes I feel I may be heading in that direction, if not already there. This has become even more evident lately on the cusp of the release of the new re-imagined Star Trek film by JJ Abrams coming out later this week. So when today rolled around, the fourth of May, I was quite quick to point out that today is not really Star Wars Day to those wishing it others via internet social networking services.
It came about because today being the fourth of May and "fourth" is similar to "Force" -- so it enables people wish each other, "May (as in the month) the Fourth (as in the date) be with you."
I tweeted the following very early this morning on Twitter:
I'll wish you a Happy Star Wars Day on the real day, May 25th, the anniversary of its release. May the 4th be with you indeed!
The fact is, Star Wars (A New Hope) was first released on May 25, 1977. Being a long time fan, going all the way back to 1977, I have always honored that date as the date to celebrate this great film and the ones that would follow it. For more than 30 years now, I along with fellow long time fans would hold celebrations on or around the 25th of May celebrating the films. These celebrations have been everything from movie marathon parties held in the homes of fans, or conventions, or other types of parties. All the other Star Wars films release dates were also close to the date (i.e. The Empire Strikes Back was released on May 21st, Return of the Jedi was once again May 25th. The more recent prequel films opened a bit earlier on the 19th and 16th of May. No, I am not counting The Clone Wars released last August as part of the film saga).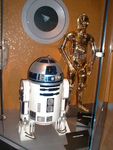 We are not going to change it to the fourth of May simply out of the fact that date lends itself to the saying "May the fourth be with you" as a silly pun to "May the Force with with you."
Be that as it may, I am not going to start a one man battle against those who wish to make May 4th Star Wars Day. True long time fans will know it is really May 25th. If people want to celebrate and have some Star Wars fun on the 4th of May, who am I to stop them. So yes, we can make today a Star Wars Day... but the Star Wars Day will remain May 25th.
So celebrate the fourth if you must, but for the long time fans we will always have the 25th as the true Star Wars Day to celebrate and rejoice the real power of Force, not the fourth.
Now get off my lawn you crazy kids!