You are hereAbout Hitchhiker's Guide to British Sci-Fi
About Hitchhiker's Guide to British Sci-Fi
---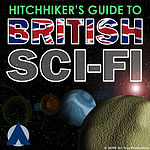 From the creators of Doctor Who: Podshock comes a new podcast covering all British science fiction. It was previewed on the Doctor Who: Podshock feed for a limited time (it now has it's own feeds as well - see below). As the name implies, this show covers all British science fiction media. While this podcast will still cover some Doctor Who material (for in-depth coverage subscribe to Doctor Who: Podshock).
Hosted by Louis Trapani ( @LouisTrapani ) and friends including: Dave Cooper ( @daveac ), Graeme Sheridan ( @The2ndDoctor), James Naughton ( @JamesNaughton ), and Ken Deep ( @kendeep ).
Subscribe via iTunes: Below are the direct links to iTunes for both versions.
Direct podcast feeds: