Boo! AudioBoo! Mini Mobile Podcasting!
---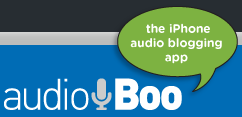 As a podcaster, over the years I have been known to carry various portable digital audio recording devices just to be prepared to record something to possibly include in a podcast. Be it a microphone attachment to the 5th generation iPod, or better yet a H4 or H2 Zoom digital recorder. More recently with the addition of Apple sanctioned 3rd party apps coming to the iPhone one year ago this week, I was able to use 3rd party apps to record audio right on the iPhone. With the release of the 3.0 software last week for the iPhone, it is now part of the OS, with Digital Memos. You no longer even need a 3rd party app now.
Although I wouldn't use the iPhone for any on-location recording of any significance or length. Why run down its battery after all? It is great for short snippets though. I will continue to use the H2 or H4 for interviews or other recordings of some length.
For some time now, I have seen people posting to their Twitter feeds an "AudioBoo" with an attached URL in the tweet. At first I thought it was perhaps a certain flavor of audiobook they may be listening to at the moment. Simply with the last "k" in book missing (much like the trend of missing letters in sites such as Flickr. I thought it was a new audiobook site doing the same). I simply dismissed it. Do I really care to know what audiobook any given person is listening to, especially when I need to follow a link to find out? Nah.
Well, I was wrong. AudioBoo has nothing to do with audiobooks. Though I must say "AudioBoo" would not be my choice of names for this service because of the initial confusion on my part.
Instead, the best way I can describe AudioBoo is micro-podcasting (or as they call it, "The iPhone audio blogging app"). It allows you to record a short bit of audio from your iPhone (see the AudioBoo website for options for non-iPhone users) and publish it right from the iPhone. The service is essentially made up of two parts, the iPhone app and the audioboo.fm website. This too is nothing new or unique. Twittelor Pro, a Twitter client for the iPhone will allow you to record audio for your tweets much like attach an image to your tweets. What AudioBoo does is combine the audio recording with other services such as attaching an image and your a Google map location (both are optional when you publish), and of course it will tweet your boo on Twitter and/or Facebook. Plus in addition, it gives you your own RSS feed for your 'boos' (each post you make is a 'boo') and via an iTunes button on the site will subscribe you to the feed as a podcast in iTunes. This is great for micro-podcasting on the road.
This won't replace full-length podcasting, but it does complement it well. The other day, I tested out the service while watching the Blu-ray edition of Star Trek: The Motion Picture. This AudioBoo was not a full on review, but just an initial comment about my experience somewhere near the beginning of the film.
This was just the first of what I hope will be many "boos" that I will create. It was done mostly just to try out the service. I suspect I will do more, especially when I'm out and about and I want to share information about the location and/or event I am attending.
It is pretty much how Leo Laporte and Don McAllister are using the service currently with their trip to China.
Again, this won't be replacing the current line up of podcasts we produce here or the others on the table, but it could be a great complement to them. Quick and easy without any post-production and published on the spot, instantly (as long as you have internet access).
The service and the app are currently both free to use. Like Twitter itself, I am sure once momentum builds on the service, some sort of business model will emerge.
You can find my AudioBoo profile at http://audioboo.fm/profile/LouisTrapani or simply follow me on Twitter: @LouisTrapani as all my boos will show up on my Twitter feed as well (and then will be reflected on Facebook).