Project 365: A Photo a Day (with an iPhone)
---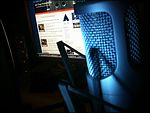 For some time now I have been meaning to feature a new photograph a day on my website (one of them at least over the course of my 17 years on the net). I always thought it would be a good exercise. It would be an excuse each day to take some time and photograph something. Though like many plans, sometimes they stay bouncing in my head without them being realized.
Part of the reason why I had put it off and never jumped into the daily practice is because as a photographer, I usually shoot with a DSLR (or an analog SLR before that)... It's something that I didn't usually carry with me throughout the day. If I was going to take my DSLR out to photograph something, I am more likely to shot more than just one or two photos. It all equated to an investment of time. There was also a period of time when DSLRs were too cost prohibitive to have and I was using several point and shoot digital cameras for mostly snapshots and documenting events, while using the film based SLR for photography work. Although I still used the digital cameras I had on hand to do photography work nonetheless. Be that as it may, I felt it was not up to the quality of imagery I would get from SLR at the time. Today is a different age now. I take enough photographs using a DSLR, some of which gets posted to the net to feel free to play around with lower resolution imagery from a non-DSRL camera.... Enter the iPhone 3GS. Now that Apple had upgraded the built in camera with the release of the 3GS last summer, and with all the photo apps available on the iPhone, it allows for some creativity in addition to uploading the images to the net right from the device itself. Last November, I saw my friend,
Andy Affleck
@aaffleck posting a new image to Facebook on a daily basis. He explained he was using the iPhone app,
Project 365 - Free app with ads
or
Project 365 Pro - paid app without ads
(iTunes App Store link)
. It is a free app (sponsored by ads) that essentially gives you a calendar in which you can populate each day with a single photo. Along with it, you can add a comment on it (a relatively new feature). From right within the app, you can upload your images to Facebook and Twitter. It is interesting not only from the prospective of seeing a year of your life in photographs (as I get older, I appreciate the photos I have taken over the years as my 'gray matter' is not as photographic as it used to be), but it also allows me explore photography using just the iPhone. The 3GS has a 3 megapixel without too much creative control (although more than previous versions of the iPhone hardware and software). With so many photography iPhone apps available, you can tweak the photos a bit as well. Granted, it may not be Photoshop (not even the Photoshop Mobile on the iPhone is any where near the desktop version), but the limitations forces you to be more creative. Now, not every photo can be masterpiece, they are not meant to be really. Sometimes it is just to document a day, other times just to share something of interest with others, while other times it compares to my regular photography. I figured I would try it out with only Facebook at first (see here:
Project 365 Photos
). Perhaps I will expand it by uploading the a daily images here on this blog and/or elsewhere. There are some days when I take several images (of different subject matter) for the project and then I am forced to choose one for it. Then there are other days when I am too busy with my other work and then I suddenly realize I need to take a photo for the project and may only take one. It also means that since sometimes I take photos of more than one subject matter for any given day, it generates a surplus of images that I haven't used. I can do something with them as well in the future. It is interesting to see some of the comments from Facebook that each image generates. Some of what generates the most interest with others are images that I initially thought were not very interesting. It is now over a month into the project, and I am still finding it a fun exercise. The subject matter I choose, while are mostly still life or scenic, they do tend to vary in theme. Which I think is a good thing. It means I can surprise myself because I have no idea what will be coming tomorrow. Here are the photos from the first 30 days starting mid-December 2009 to mid-January 2010. There are without captions here. Most have captions on Facebook once that feature was added to the app.
For more on doing a Project 365 or a photo a day, see this article on the Photojojo site: Project 365: How to Take a Photo a Day and See Your Life in a Whole New Way
If I don't start posting them daily outside of
Facebook
, I will post them here for each 30 days.
Get the app from the iTunes App Store:
| | |
| --- | --- |
| Free App | Paid Version |