The Arc of Insanity on the TARDIS Tavern Podcast
---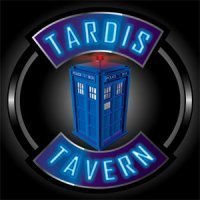 It was months in the making, but it finally happened after Gallifrey 21, I was a guest 'bartender' on the TARDIS Tavern podcast! No sooner after completing my previous post about being on Cultdom Collective podcast, word came to me via @tardistavern that The Arc of Infinity episode we recorded last week has now been released.
Join the insanity with the insanely great hosts Steve Stacy and Sean Homrig of the TARDIS Tavern as we review 20th anniversary season kick off episode, Arc of Infinity with Peter Davison as the 5th Doctor. Not only do we discuss this 1983 story, but Doctor Who in general and how I happened to come across it all those years ago.
The TARDIS Tavern podcast describes itself as 'a jocular podcast featuring reviews of Doctor Who and copious amounts of booze.' -- It does not disappoint. Plus, you can't go wrong with a podcast cover artwork like the one they have.
I had an insanely great time on it and I even spiked my coffee just for the occasion.
Join us in the tavern here: