Ray on Display - LA Ray Harryhausen Exhibit
---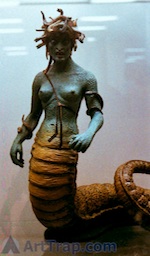 All the way back in 1983, I had an opportunity to meet Ray Harryhausen and see some of his work at a convention he was a guest at in New York. Having always been an admirer of his work, I knew then how special it was for me. What I didn't realize was just how rare it was, as I have not had that same opportunity since.
Long before CGI took over as the 'go-to method' of doing special effects in media today, a process known as stop-motion animation was the way to go. It and variations of it (Harrhausen created 'Dynamation' which allowed live-action integration) was one of the dominate methods of doing certain kind effects from the time of original King Kong (most famously) onwards until Jurassic Park changed everything (proving what CGI can do).
In that time, pioneering stop-motion and visual effects was Ray Harryhausen with his work in films such as Mighty Joe Young (1949), It Came from Beneath the Sea (1955), Earth vs. The Flying Saucers (1956), The 7th Voyage of Sinbad (1958), and what may be my first exposure to his work, Jason and the Argonauts (1963), (at least my first exposure on the 'big screen' - if my school auditorium counts as a 'big screen' - it was certainly bigger than any TV screen in my home then or now). More recently, which I did see in the theaters was the original Clash of the Titans film (1981).
Next month, the master craftsman Harryhausen turns 90 years old. What better way to honor him and his accomplishments by seeing an exhibition of his work, The Fantastical Worlds of Ray Harryhausen running now through August 22, 2010 at the Academy of Motion Picture Arts and Sciences in Los Angeles, CA. Admission is free. See the link below for more information.
The Fantastical Worlds of Ray Harryhausen Presented by the Academy of Motion Picture Arts and Sciences
Visit the official website for Ray Harryhausen
Unfortunately, as I don't foresee myself in the LA area before August 22, I won't have the opportunity to see it myself. If you go, let me know about it here.