Insta-Addiction to Instagram
---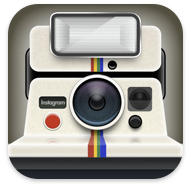 "It's a fast, beautiful and fun way to share your life with friends through a series of pictures," is how Burbn, Inc describes their free iOS app, Instagram.
Chiefly for the iPhone and the iPod touch (with camera), it can also be used on the iPad, just without the camera functionality, Instagram has really made an impact on how I and thousands of others take and share photos over the net.
When I first saw the app appear on my radar in the iTunes App Store, I somewhat dismissed it as just another iPhone camera filter app to emulate vintage film snapshots. It wasn't until Leo Laporte • @leolaporte recommended and demonstrated it a couple weeks ago that I came to quickly realized that it was so much more.
It is sort of Twitter meets Flickr in a way. Like Twitter, you can follow others and others can follow you, but instead of posting tweets, you are posting photographs taken with your mobile device. Unlike Twitter, you are not limited to 140 characters, because as well all know, "A picture is worth a thousand words."
The app includes 11 filters that you can optionally apply to your photographs prior to posting them. You can also share your images outside of the app by optionally posting them to your Flickr account, Tweeting it via Twitter, Facebook, Tumblr, or Foursquare (I wish there was an additional option for Gowalla).
It also allows you to geo-tag the photo with the location where it was shot. I believe the location selections (as determined by the location services of your iOS device) is tied to the Foursquare database. You need not have a Foursquare account to geo-tag your location, but you do seem limited to the choices given without an option to add a particular location that is missing from the list.
I have to say, I never expected it to become so addicting. Usually addictive software on the iOS is resigned to just games and Twitter apps. Here is an app that allows you to be creative and have fun while sharing experiences and images with your friends and fellow photographers.
It is everything I thought Flickr would be... it is certainly more interesting than the Flickr iOS app. While both incorporate a community aspect, the Flickr app seems more segregated.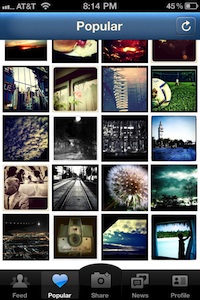 Instagram incorporates the social media of Twitter, the fun of photo apps like Live FX, Hipstamatic, and Project 365 in one app. In fact, once I started using Instagram, I knew it would take the place of my Project 365 when I complete the project in December. In fact, even now I am using photos taken with Instagram for my Project 365.
The app itself is very visually appealing. It is simple to use while at the same time being pleasing to the eye. It allows you to comment on photos (yours and others) and "like" photos. It has a "Popular" gallery section, which much to my surprise, I had one of my photos make it there the other day (a close-up shot of a dandelion). Photos are promoted to the 'Popular' gallery continuously (there's a refresh button to see the latest) using a special algorithm.
Instagram has had incredible success in the short time since it has been released. In 3 weeks, it has gathered 300,000 users, all without much promotion from themselves for the app. Much of it has been from word of mouth (or word of tweet). TWiT has featured it on more than one occasion and on the latest Net@Night episode, Kevin Systrom • @kevin and Mike Krieger • @mikeyk, the two who are responsible for Instagram were interviewed. I intended to write this article yesterday, but then figured it would be better to wait to see what they had to say first.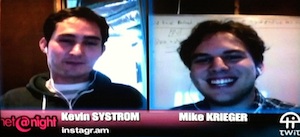 As it is now, Instagram is all on the app itself. There is no web interface to speak of except for changing for your account settings and when posting to other services such as Twitter and Facebook, your images will be displayed via their site which is instagr.am. Kevin and Mike reported that they plan on expanding the web services soon, but will remain focused on being app-based.
Instagram has gained global acceptance as you will see photos from all over the world. Photographs breaks all language barriers!
The app at the time of this writing is still a version 1.0 release. So it is not without some bugs. It has crashed on me on occasion, but it is fairly rare. I also noticed that within the listing of people who 'liked' a photo, the typeface can sometimes turn italicized for no reason. Not a real biggie though. I am sure they will be squashed in upcoming updates.
What I would like to see in future versions is a way to save your photos you applied a filter to prior to posting them to the service. Currently they are indeed saved to your camera roll, but only after you post them.
I also would like to have a way to share a photo after you posted it. Currently, you can only share your photos (via Twitter, Facebook, Tumblr, Flickr, Foursquare) at the time you are posting it to Instagram.
Of course, it would be cool to have more filters to choose from. Kevin and Mike did say that they originally developed 30 filters, but dwindled it down to 11 in the current release. This was probably so people could quickly apply filters while out and about without too much fuss.
A personal gripe which I discovered Leo Laporte shares with me as well comes from how some users are posting photos taken in the past or with cameras other than from their iPhone (i.e. from their DSLR camera). While there are no real rules (outside of what would be considered porn being forbidden), I like Instagram being a slice of life of what is currently happening. Similar to what Twitter is really. If you are pulling photos out of your portfolio that you had taken months or years ago, well, again you can do that, but I am more interested in what you are taking with your iPhone (or iPod touch) today. Now there were a few photos that I posted which I had taken earlier in the day, but it was within the same 24 hour period. I find it more interesting seeing your current experiences/expressions than past experiences/expressions via your photography.
I found the community to be warm and friendly. Common courtesy prevails. I can be found there using my name of course, LouisTrapani if you would like to follow my postings on Instagram.
Check it out yourself, it is a free app for the iOS (iPhone (all models), iPod touch (helpful to have the camera model), and iPad (though obviously you cannot use the camera feature). Kevin and Mike did say they were seeking an Android developer to create an app on that platform as well, currently there is none. Warning: You may find yourself addicted to the app as I have.