Wait Just One Momento… Let Social Media Create Your Diary (on your iPhone)
---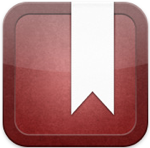 If you are like me, you are just too busy to keep a diary or journal. Hell, it is hard enough just keep a blog going these days. But what if I were to say that you are already keeping a diary or journal without even knowing it? If you are posting messages to Twitter, updating your status on Facebook, posting your photos to Flickr, checking in with Gowalla, placing videos up on YouTube, etc. you are already keeping a public journal scattered across the net. Now what if you could corral them all together and include private entries and keep it all in your pocket (via the iPhone of iPod touch)?
With the Momento (Diary/Journal) - d3i Ltd app for iOS, you can do just that and more.
This is a great app for those like myself, who always wanted to maintain some sort of record of our days, but are just too busy or just don't have the discipline to keep up with it. Even if you have been successful with keeping a diary/journal, this app still may be for you.
The app makes it pretty painless to keep a record of your day just by syncing your social media content right into it. It will import and sync your online activity from popular services such as your tweets from Twitter, Facebook statuses, Flickr photos, Last.fm tracks, Gowalla and Foursquare check-ins, diggs from Digg, YouTube and Vimeo videos, or activity content from any service with a RSS/Atom feed (i.e. add your GetGlue check-ins or your own blog posts). Multiple account feeds are supported as well.
So your tweets (and content from other streams) can be your chronicle of your days and you can keep store them right on your iOS device. All performed automatically once you set each one up (which is very easy to do). You'll have access to your tweets and alike while offline and they can serve as a record of your days. You can choose what kind of tweets to include or exclude such as replies or retweets which you may not want to include.
Of course, you can add your own entries. I think of them as tweets. Have you ever had a tweet you didn't tweet because you felt it was too personal or it was 'too much information' for a public tweet? Now you can record those thoughts right into Momento without posting them publicly. Your entries are not limited to 140 characters as they are with Twitter, but because of the format of the device, you will most likely keep your entries short and thus that frightening big blank journal page that you feel you must fill in an analog diary is not an issue here.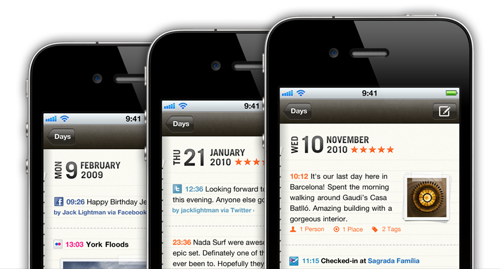 Each entry you make is known as a 'moment' in the app. These moments can be tagged by person, place, event, you can create your own custom tags, you can rate moments with star ratings, or attach photos (using the iPhone camera or selecting from your camera roll or library).
The app was recently updated to 2.0 and with it new features were added that include backup & restore and the ability to export your data. This had been a deal breaker for me with the previous version. I didn't want to keep a journal only to have it locked into an app on the device. Now you can export it via iTunes file sharing feature in the app section. Other requested features were also added in 2.0 such as landscape support, retina display support, browsable links, etc.
You can browse your moments by day or month. Your moments are searchable as well. It also has a feature to lock your journal out of prying eyes (just like some old analog journals) with a passcode if you choose.
The app is very visually appealing as well. It incorporates that analog journal look while still maintaining functionality offered by the digital device.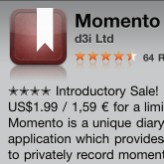 I've only been putting it through its paces for less than two days now, but so far, the app has performed very well. No crashes, and no major shortcomings discovered as of yet (except perhaps that it is not a universal app for the iPad). I haven't used all the features yet (i.e. back & restore or export) due to the short period of time, but I wanted to get word out about the app while the sale price was still in effect.
It is currently being offered for $1.99 (£1.19) for "a limited time" now only 99¢ / 59p (SXSW sale) (it had gone for $2.99 in earlier versions). If you ever wanted to keep some sort of journal or just a record of your tweets (or status updates), it is a worthwhile investment.
This app has been purchased by myself, no evaluation copy had been supplied or any other exchange for reviewing it here. The links are affiliate links to the Apple iTunes App Store.