Hipstamatic App for iOS Celebrates Its First Year Anniversary with a Sale
---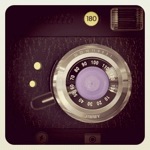 I made a mention of this via post on Instagram, but for those not following me on Instagram, yet are still interested in iPhone photography might be interested to learn that Hipstamatic - Synthetic Corp is on sale now until Saturday to celebrate their first year anniversary. It is currently half off now at 99¢ (normally $1.99).
I mentioned Hipstamatic back on Thanksgiving weekend when it was also on sale (see App Store Deals This Thanksgiving Weekend). It was the first time it dropped its price at that time. I purchased it then and since that time, I haven't used it too much, but I will admit that it is better than I had expected. It's not my go-to app when it comes to iPhone photography (that still remains the built-in app and Instragram), but for shots that I know I can take some time with, I may use Hipstamatic.
This is not meant to be a review or repeat of what I said about the app a couple weeks ago, just a heads up about the sale. That said, basically Hipstamatic is an iOS app that mimics retro analog photography, complete with the ability to change film, lenses, and flash to achieve certain looks. You can also expand those features with built-in app purchases of additional film, lenses, and flashes. It is a camera only app, meaning that you can not apply any of its effects to any previously shot photos in your camera roll or library. It is still a fun and interesting app, especially now for only a buck.
Below is an example of a Hipstamatic photo I took earlier and shared on Instagram.