You are hereDW Podshock App for International Podshock Supporting Subscribers
DW Podshock App for International Podshock Supporting Subscribers
---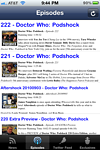 As mentioned in Doctor Who: Podshock as well as here (see DW Podshock App for Podshock Supporting Subscribers), if you are a current Podshock Supporting Subscriber, you can get a promo code for a free DW Podshock Companion App (iTunes link) for the iOS platform (iPhone, iPad, and iPod touch). Up until now, the codes from Apple were valid only in the US.
As of today, the codes can now be redeemed through any App Store around the world. This is great news for our supporters outside of the US.
Quantities are limited. Therefore we are limited to only what codes are available to us at any given time. If you are interested in getting the app for free and you are a supporting subscriber, please let us know.
On a related note, work has begun on getting an Android version of the app developed. Stay tuned for further details.
See here for more information on the DW Podshock Podcast Companion App for the iOS.