You are hereNew Bonus Episode for the Doctor Who: Podshock Podcast Companion App
New Bonus Episode for the Doctor Who: Podshock Podcast Companion App
---
DW Podshock Podcast Companion App - Episode 02
Exclusive App Episode
Running Time: 0:34:48
In this bonus exclusive episode for the DW Podshock Podcast Companion App we include a segment from the Q&A session with Daphne Ashbrook (Grace from the 1996 Doctor Who movie) from last month's 25th anniversary event for the Gallifreyan Embassy. The complete interview and Q&A from the event is included in Doctor Who: Podshock 229 - Extra Edition. Plus Ken and Louis talk about the origins of the Gallifreyan Embassy, and more.
Hosted by Louis Trapani ( @LouisTrapani ) and Ken Deep ( @kendeep ).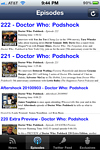 This episode appears in the "Exclusives" section of the app.
Note: The app is currently only available for the Apple iOS (iPhone, iPod touch, and iPad), there is an Android version in the works. Currently there is a bug in the iPad version in which prevents the episodes from being listed, they appear blank (in both the regular episodes section and exclusive section), but if you tap the topmost slot, you will hear the latest episode.
Brought to you by the Gallifreyan Embassy and is a production of Art Trap Productions.
Doctor Who: Podshock an international Doctor Who podcast premiering in 2005 by the Gallifreyan Embassy and produced by Art Trap Productions.