You are hereSee Doctor Who: Podshock Live on Stage at Gallifrey One's Catch 22: Islands of Mystery
See Doctor Who: Podshock Live on Stage at Gallifrey One's Catch 22: Islands of Mystery
---
[UPDATED February 4, 2011] Once again, Doctor Who: Podshock will be taking the stage at Gallifrey One's Catch 22: Islands of Mystery this February in Los Angeles, CA.
As with past years, we will have special surprise guests in addition to convention guests appearing live on stage for this recording of the show.
The Doctor Who: Podshock live show will be on Sunday, at 2pm PST as part of Gallifrey One 2011 convention in Los Angeles, CA (February 18-20, 2011).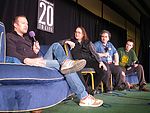 Scheduled to appear on stage with us are Gareth Thomas (Blake's 7, Torchwood: Ghosts in the Machine, and Storm Warning & Dalek Empire audio dramas of Doctor Who), Ian McNeice (Winston Churchill from the most recent series of Doctor Who), Tracie Simpson (Doctor Who Producer and Production Manager), Cush Jumbo (Lois Habiba from Torchwood: Children of Earth) and Paul Kasey (the 'man behind the mask' on Doctor Who and The Sarah Jane Adventures. PLUS TWO SURPRISE DOCTOR WHO GUESTS who are not part of the guest line up at the convention.*
(Previously scheduled announced guests, Jacqueline Pearce (Doctor Who: The Two Doctors and Blake's 7) is unable to attend and Kai Owen & Tom Price of Torchwood are unable to attend due to their shooting schedule for the next series of Torchwood)).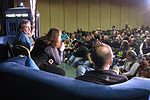 Note: There is no additional charge to attend this live show recording, though being it is part of the Gallifrey One convention, you will need admission to convention. Visit www.gallifreyone.com for ticket information.
* All guests and times are subject to change without notice. (Be sure to follow @Podshock for any last minute changes).
Also be sure to attend our Doctor Who: Podshock Meet and Greet at Gallifrey One 2011 on Thursday, February 17th at 10pm PST.
Help bring Doctor Who: Podshock to Gallifrey One's Catch 22: Islands of Mystery by becoming a supporting subscriber or make a donation to support the show. We can only do this with your support.
Have a business? You can sponsor our live show.