You are hereSponsor Us at Gallifrey One
Sponsor Us at Gallifrey One
---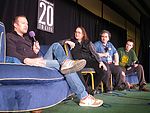 Once again we are bringing our shows to Gallifrey One, the premier annual Doctor Who convention in Los Angeles, including the official podcast for Gallifrey One, Doctor Who: Podshock, in addition the Sonic Newsdriver and Hitchhiker's Guide to British Sci-Fi will have a presence at the event.
We are holding a Doctor Who: Podshock Meet & Greet as well as once again taking to the stage for a Live Recording of Doctor Who: Podshock at Gallifrey One. Plus as always providing you with extensive coverage of the annual event.
We currently lack the resources for the endeavor and we are seeking help from our listeners. We need to pay our way to cross the country to attend the event, which includes flights in and out as well as lodging at the hotel and other expenses that go into such an operation.
The only way we can continue to bring you shows like Doctor Who: Podshock, Sonic Newsdriver, Hitchhiker's Guide to British Sci-fi, etc. is through support of our listeners and sponsors.
How can you help? You can make a donation of any amount you wish (one time donation or donate monthly): Donate here
If you are not already a Podshock Supporting Subscriber, please consider becoming one: Become a Supporting Subscriber
If you are a business or corporation or you work for one that would be interested in sponsoring our show at Gallifrey One, we would very much like to have them as a sponsor. We are seeking sponsors for our live show at Gallifrey One and we always looking for sponsors for our shows (see: Advertise with Us). Contact us if you are interested in becoming a sponsor for our live show at Gallifrey One.