New Media Expo Exposed
---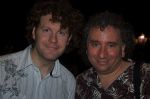 Geoff Smith and IAfter a day of reflection, the following are some of my thoughts after attending the New Media Expo 2008 which took place on the 14, 15, and 16 of August 2008 in Las Vegas, Nevada.
Timing is Everything
After last year's New Media Expo (NME), I decided that I would make it a point of attending the 4th annual NME this year. I've been wanting to attend each year since it's inception. When the date was announced that it would be taking place in August this year instead of September or October as was the case with the previous years, I suddenly became worried as the date conflicted with the major fundraiser event for the non-profit organization I was working with at the time. When I left my position there after seven years to launch two new podcasts (JUMP The POD) and bring Doctor Who: Podshock on the road on tour across the US going from city to city each weekend, I thought now as a full time new media producer, it would be more appropriate than ever to attend the NME. When I realized I would be podcasting on tour in Cleveland at the same date of the NME, once again, it was off again. Then suddenly tragic news of the JumpCon convention tour never getting off the ground... just days before the tour was to begin, the whole tour was completely off. I went from dream job to no job. I also found my schedule for the NME suddenly opened once again. Though now the big question was the cost involved in getting to the NME since JumpCon gig went out the window. I already invested a great deal of time and money on the tour that went nowhere, not to mention owed pay. Well, sometimes you have to dig the hole you find yourself in bigger before you can climb out.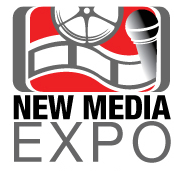 The New Media Expo date change to mid-August actually turned out well. It took place when I needed it most. Even though for the last year it was on and off again and on and off again for myself. The date change really turned out to be fortuitous for me in more ways than one. More on that later.
Sessions, Sessions, Sessions
Fifty percent of my reasons for going to the NME this year was to attend certain sessions being offered at the conference. Because it wasn't until the last couple of weeks that I knew if I would be attending, I of course missed all the early bird discounts. I wanted to make sure I got the most out of the sessions being offered, in particular a certain track of sessions available there.
Here lies the problem, the other fifty percent of my reasons for attending the NME was simply networking with other new media producers. There are a great many of us out there, but we are basically all spread apart geographically. It is not often that we are all under the same roof together. The NME provides an excellent opportunity to meet and talk with your fellow producers and publishers. But since I was rushing off to attend the sessions I felt I really needed to be present at, it meant not being able to speak to people I really wanted to speak to at this show.
This is my main complaint... I realize I wasn't required to be at every conference session, but as I said, it was important that I got as much as out of the conference sessions as possible. Unfortunately, it left me very little time for the Expo floor.
A compliant I heard from others who had attended previous years had to do with the venue. Being in Vegas, after the conference everyone seemed to spread out either in the massive hotel or in the city itself. Whereas when it was held in Ontario, CA, when you said let's meet at the bar, there was only one bar and you knew where to go. This was not the case here in Las Vegas.
Fortunately, I did plan my days as much as I could ahead of time as far as scheduling goes. It meant really rushing from when point to another though.
I recall at one point Geoff Smith (who created Doctor Who: Podshock's promo/theme for us) had tweeted that he was at Starbucks. I happened to be walking by Starbucks at that very time I read his tweet on Twitter on my iPhone. I glanced up, and he was literally just a few feet away from me. He was busy talking with others, and I was busy rushing off to my next session. It meant I could not talk to him until later that evening while attending the Coverville 500 concert (which at one point it didn't seem like I was going to find him there).
New Friends
Meeting up with fellow new media producers, publishers, podcasters, is fantastic. Although I maintain close contact with a good circle of fellow new media producers over the net, it is rare that we have a chance to speak in person. Planning meet ups at the NME is one way to ensure you meet up with other podcasters with similar interests or which may be using similar tools.
Otherwise, chance meetings or planned meetings ahead of time is another way of meeting up with fellow podcasters. Sometimes there are people you may set out to met or through serendipity, you happen to meet someone that you get on with and enjoy their company.
MacCast LiveI've met up with people who I knew to some degree from their presence online - be it their podcasts, Twitter, or otherwise. Others, whom which I may not have been familiar their work, yet quickly became friends with at the show. People such as, but not limited to Adam Christianson, Andy Affleck, Ed Vawter, John F. Braun, Jeff Gamet, Allison Sheridan, Tim Corrimal, Dave Hamilton, Joel Mark Witt, Gianluca Tramontana, Mike NcAllen, Chris Christensen, Don McAllister, and so many others (apologies to those I may not have listed here).
Having left my fellow co-hosts of Doctor Who: Podshock behind (Ken Deep in New York and James Naughton in Leeds, UK), I appreciated the new found companionship at the Expo. Thank you all, even if I may have failed to list your name here. (Things were easier with the Apple Newton and having the ability to beam each other's contacts to each other instead of using paper business cards. If I recall correctly I think the Palm OS did the same... it's not built into the iPhone though. Sad, since this event had so many, probably the majority of its attendees armed with iPhones. I know there's a 3rd party app that does something similar -- but it is not the same thing as having that functionality built into the OS of the device as it was with the Newton).
Nuts and Bolts
Overall the show went off without a hitch. It is a very well run show. The people working the show as well all the security people there were helpful and pleasant. I wish there was a "community table" of sorts though. A table where podcasters could leave their literature and info.. It would be a source of discovery. Perhaps you would find representatives of a show you are interested in are there, but without having seen them (in a case of an audio podcast) you may not know otherwise they were there. Just a general information table where attendees could leave info, post meet up events, etc., would have been a great asset to the show.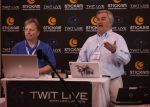 TWIT Live at NME 2008Failings of the convention center itself, not the show, would be the sole eatery available there, with limited hours of operation and limited selection, I choose to go back to the Hilton to find something to eat for lunch while at the show. The big fail whale in the center would be Starbucks. It was only open for a few hours each day -- if even that. If you wanted a snack, you would be out of luck as well, as their glass display case was empty. You could get coffee if you were lucky enough to catch it while it was open for the 2 hours it was each day.
Even though the convention center and the Hilton were just next store to each other, both places are massive. So it is a bit of a walk commuting between the two. I don't mind the walk, but it means if you are attending the last morning session which ends at 12:45 pm and the first afternoon session which starts at 2 pm, you have very little time to catch what might be going on the Expo floor, look for a place to eat (again I didn't see the sole restaurant in the center as an option), and get back in time for the next session.
Some sessions may have been too ambitious. In other words, for example the session, "A Legal Thicket: New Media Production and Content Liability in the Digital Age" had to rush through much of their slides because there was only so much ground they could cover in the hour long session. This session may have done better if it were broken up into two. Perhaps one dealing with defamation and privacy and the other dealing with copyrights and trademarks.
Kudos on the opening Keynote by Gary Vaynerchuk (of Wine Library TV). I felt his energy and enthusiasm were simply outstanding for this event. What a great way to lead and forge into the Expo. I tried to keep that energy level with me throughout the entire event.
Cheers to Tim and Emile Bourquin and everyone else responsible for putting together this show. Having worked with event organizing, I know what goes into the planning process of these type of events.
Coverville 500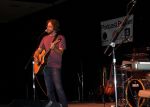 Jonathan CoultonMany attendees flocked over to Bally's on Friday night for a Coverville 500 concert. It was a fun event and I enjoyed the company I was with for it. I did begin to feel a little bit a like stalker when I was searching for my friend Geoff Smith who I thought was already there. While all eyes were on stage watching the performances, I was walking the large hall looking into the audience trying to find Geoff. Halfway through it, I finally did find Geoff. It turns out he was delayed, hence the reason I couldn't find him.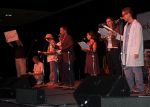 Andy and Doctor FloydIt was great seeing the ecstatic Andy Affleck on stage with Doctor Floyd holding audience participation signs. Jonathan Coulton was fantastic as usual. Even if you are not familiar with his music, I would recommend catching his interviews which Merlin Mann conducted with on his video podcast, The Merlin Show. Richard Cheese surprised me with lounge covers of Pink Floyd to rap songs -- all in lounge style. You have to hear it to believe it.
Getting out to Bally's was a great excuse to ride the monorail. Was it John, Andy, or Ed who mentioned to me it reminded them of the Simpsons episode with Leonard Nimoy. A classic indeed. Though I did wind up loosing an extra $5 on it because I didn't realize after you put your card in the turnstile to enter the monorail, you are supposed to walk through it even if the gates were closed, I was waiting for the gates to open, and tried to re-insert the card which then came up as an expired card. I had to buy another. I am sure I am not the only person to loose money in Vegas, so I won't complain too much.
More Later
I do have more to say, but I realize this entry is rather long as it is now. So I will save the rest for another post perhaps. Such as being mistaken as British by a 'lady of the evening' when I was trying to welcome Colleen and company from TWiT Live as they pulled up to the hotel. My thoughts on the Star Trek Experience, the irony of flying over Cleveland on my home, and more.