Doctor Who: Podshock Events This Weekend
---
This weekend is another busy weekend for Doctor Who: Podshock. We are having our seasonal Meet Up and Party on Saturday, 21 May 2011 on Second Life and then the following day on Sunday, we will once again be recording a live show reviewing the new Doctor Who episode, The Rebel Flesh. I hope you can join us for both.
For those of you who may be worried about spoilers, I am asking everyone at our meet up to keep clear of discussing The Rebel Flesh at it because not everyone would had seen it at that point. For our live show reviewing it on Sunday, well, obviously there will be spoilers.
For details on both events, see the links below.
Party with Doctor Who Fans at the May Doctor Who: Podshock Meet Up on Second Life -
Yes, once again fans of Doctor Who, Torchwood, Sarah Jane Adventures and alike are coming together for what has become the legendary Doctor Who: Podshock seasonal meet ups on Second Life. It is all happening on Saturday, the 21st of May 2011.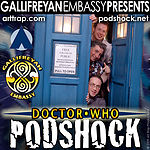 Doctor Who: Podshock Live Show Reviewing 'The Rebel Flesh' Scheduled for Sunday, May 22 -

Doctor Who: Podshock will be once again be taking to the net this Sunday, 22 May 2011 for a live-over-the-net show reviewing the fifth episode of the new series,The Rebel Flesh.

[Gallifreyan Embassy]