You are hereSonic Newsdriver (30 August 2012) - Doctor Who News
Sonic Newsdriver (30 August 2012) - Doctor Who News
---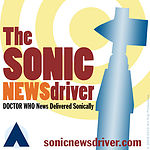 The Sonic Newsdriver 20120830
Selected Doctor Who related news delivered sonically.
For Earth-date: Thursday, the 30th of August 2012
In this episode: First Things First, Get a Life - A Pond Life, An Adventure in Space and Time, Regenderation, The Rani? and more!
Hosted by Louis Trapani • @LouisTrapani
Right click and download the episode using the link below or listen right on the website using the embedded player, better yet subscribe to the podcast using the feed links below the player.