Instagram Prints Now Available in My Instacanvas Gallery
---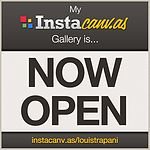 Prints of my Instagram photography are now available for purchase in my Instacanvas Gallery. Canvas prints, frame prints, prisms, and cards of photographs from my Instagram feed are available. I only make 20% on each sale, but in these trouble times, every little bit helps.
If you enjoyed a photo you had seen in my Instagram feed (or posted elsewhere originating from Instagram) and would like have a print of it and help out the photographer a bit, check out what is available in my Instacanvas Gallery.
Note: Not ever single Instragram photo is available in this gallery. I removed most of the 'celebrity' shots I have taken as well of shots that include characters that are trademarked or copyrighted by a 3rd party (even though they are my original shots) as well as those that feature corporate logos.

Elements of Nature in Concert Together - Taken with my iPhone 4 and posted to Instagram November 2011. Available as a print. © 2011 Louis Trapani