Tweetbot for Twitter Hits the Mac App Store
---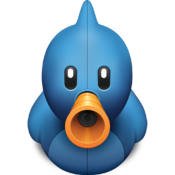 Tweetbot, the long awaited Twitter client for the Mac is now available in the Mac App Store. For several months I have been alpha/beta testing the app on the Mac. I had previously been using YoruFukurou (not an insult, it means NightOwl) as my main Twitter desktop client. Although perhaps not perfect (then again, I haven't found a perfect Twitter client on any platform), it has powerful features for power users such as myself on Twitter. That said, it may not be the prettiest client either. Enter Tweetbot. Finely crafted and honed visually, Tweetbot is pleasing on the eyes and ears. If you have used one of their iOS clients, you will know what I mean.
I began using Tweetbot on the Mac to give myself a more unified Twitter experience across platforms since I use Tweetbot on the iPhone and iPad as well (along with Twittelator). Plus Tweetbot will sync timeline position, direct message read statuses and mute filters between Mac, iPhone, and iPad versions via iCloud. 
Now that Twitter has discontinued development on their official Twitter client for the Mac (let's face it, they hadn't updated it what I suspect is more than a year) and Tweetie for the Mac has been discontinued and forgotten (and no longer functions to my understanding now with the Twitter API), you may be looking for something that fit the bill for a Mac Twitter client.
Tweetbot for Twitter by Tapbots (Mac App Store affiliate link) is now available in the Mac App Store after what seemed to be a long alpha/beta period (Tapbots, the developer of Tweetbot like to be very thorough). It is $19.99 which may sound pricey in today's world of iOS apps, but one needs to consider Twitter's new restrictions on user tokens for 3rd party clients which means Tapbots has a finite cap on how many users it can have now. There are still other free options available (such as the aforementioned YoruFukurou client) as Twitter clients on the Mac. Of course there is always the Twitter website interface that they would like you to use, but I always preferred to keep my Twitter in a separate client app off the browser.
Also see their iPhone app here: Tweetbot 3 for Twitter (iPhone & iPod touch) - Tapbots
Note: Tweetbot for Twitter links are affiliate Apple Mac App Store links.