Amazing Grace: Leonard Nimoy 1931-2015
---
The anxiously anticipated day started off very exciting. I was with my good friend, Chase Graff, though at that time he went by the name Charlie and we were sitting on a sidewalk patiently waiting on this early June day. It was the fourth of June thirty-three years ago… the year was 1982. We were first in line for the long awaited sequel to Star Trek: The Motion Picture. In hindsight, it is hard to believe that it was less than three years that had passed since the original Star Trek movie then. We were there before the theater opened  for business that day waiting. When the puzzled manager came to the theater, he was surprised to find us there so early waiting. He asked what we were waiting for and we jokingly said Das Boot, which was the other film playing at this cinema at that time. Long waits didn't bother us because we were able to talk about everything under the sun. Though on this day, I imagined the topic was mostly on Star Trek perhaps and the rumors surrounding this particular movie. There was this talk that the character Spock would die in this movie. This couldn't be so, we thought. Spock was our favorite character, after all. What would Star Trek be without Mr. Spock?
When we finally got into our seats and Star Trek II: The Wrath of Khan finally projected on the big screen we immediately became engrossed in it. Early on in it, there was a scene with a bridge simulator test in which Spock and other characters had a simulated death. We sighed in relief… thinking this was what the press was all on about concerning Spock. It was a simulated death. Our guard was then lowered knowing that the rumor must be invalid. They confused a simulated death with the real thing. [Spoiler Alert] Little did we know what would be coming at the end of the movie though. As talkative as we were before seeing the movie, we were in such shock and disbelief of how it ended that not a word was spoken between us as we traveled home from the theater. This was completely uncharacteristic for us, but we were mourning the passing of a lifelong friend of ours.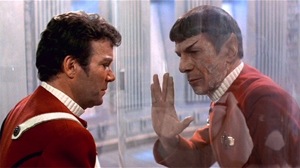 Yes, it was only a fictional character. And yes, he eventually did come back. That said, it was pretty traumatic for these two teenagers at the time. We loved and admired this character. He had been a part of our lives since we could remember.
Though in the end, as upsetting as it was, we knew it was just a character and the person that personified him, Leonard Nimoy was fine and would go on to direct the next two Star Trek films and the character would live on. Though we both knew that one day, if we both lived long enough that there would be a time when we would see him pass. It wasn't something we spoke about that often, if at all much.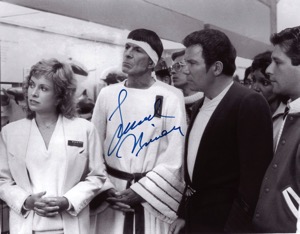 As time marches on, we have lost many from the original Star Trek series. Its creator and producer, Gene Roddenberry, James Doohan as the lovable 'Scotty', DeForrest Kelley, Majel Barrett to name a few. What I hadn't considered is that I would lose my friend Chase before Nimoy or Shatner… but that is just what had happened in 2011. At his burial, I quoted the lines Kirk said on Spock's passing. I'm sure you probably know it, "Of my friend, I can only say this. Of all the souls I have encountered in my travels, …his was the most …human." I'm sure it was something he would had appreciated. Now on this sad day of the passing of Leonard Nimoy, my thoughts are not only with his legacy and impact he had on me, but of also on my friend who is also no longer here.
What can I say about Leonard Nimoy that hasn't already been said? I didn't really have any kind of relationship with him off-screen other than seeing him in person once or twice at conventions. Outside of shared interests in moviemaking and photography, and of course Star Trek, our lives didn't really intersect personally. Ironically as it may be, since he is best known for playing someone that holds back his emotions, I always appreciated his sense of humor. 
I think it would passé of me to talk about his career or even his impact in Star Trek. This isn't really an obituary. All this information can be easily had elsewhere on the net. I simply feel a sense of loss in his passing. As I tweeted earlier in the day, today the world seems less logical than it did before. I think Leonard Nimoy said it best himself just a few days ago on Twitter. It was his last and final tweet:
A life is like a garden. Perfect moments can be had, but not preserved, except in memory. LLAP
— Leonard Nimoy (@TheRealNimoy) February 23, 2015
It's plainly evident across all social media today that many had been touched and shared moments in the lives somehow through Leonard Nimoy, through his acting, directing, photography, poetry, and seeing him in person.
Even President Obama chimed in saying, "Long before being nerdy was cool, there was Leonard Nimoy. Leonard was a lifelong lover of the arts and humanities, a supporter of the sciences, generous with his talent and his time. And of course, Leonard was Spock. Cool, logical, big-eared and level-headed, the center of Star Trek's optimistic, inclusive vision of humanity's future. I loved Spock. In 2007, I had the chance to meet Leonard in person. It was only logical to greet him with the Vulcan salute, the universal sign for "Live long and prosper." And after 83 years on this planet – and on his visits to many others – it's clear Leonard Nimoy did just that. Michelle and I join his family, friends, and countless fans who miss him so dearly today."
As Dr. McCoy said of Spock at the end of The Wrath of Khan, "He's really not dead. As long as we remember him."
There are plenty of memories as well as performances recorded on various mediums of Leonard Nimoy. Still, the universe seems a little more empty today. I may be adding more to this post later on as of now, I'm still at a loss of words.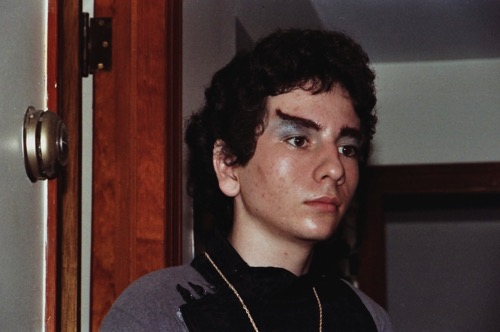 This is a young teenage photo of myself as a Vulcan. It wasn't meant to be Spock, I didn't have the straight hair for that.