You are hereSonic Newsdriver (16 October 2010)
Sonic Newsdriver (16 October 2010)
---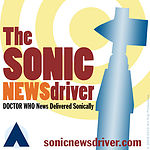 The Sonic Newsdriver 20101016
Selected Doctor Who related news delivered sonically.
For Earth-date: Saturday, the 16th of Oct. 2010
A double length show featuring breaking news of Gallifrey 22 with special guest Shaun Lyon of the Gallifrey One conventions, plus talkin' about my regeneration, don't cross the streams, born in the USA, Tennant trending, what's wrong with my voice, gossiping Gaiman, heard it was your birthday, hello? hello?, Wiiiii have a date, Who is watching you?, NYCC tops 95000, Party with Daphne Ashbrook, and more!
Hosted by Louis Trapani
Right click and download the episode using the link below or listen right on the website using the embedded player, better yet subscribe to the podcast using the feed links below the player.