You are hereSonic Newsdriver (01 December 2010)
Sonic Newsdriver (01 December 2010)
---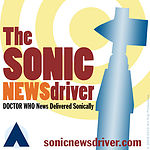 The Sonic Newsdriver 20101201
Selected Doctor Who related news delivered sonically.
For Earth-date: Wednesday, the 1st of Dec. 2010
Happy Birthday Doctor Who, Karen Gillan & Jules Burt, Where's Jeff?, RIP Irving Kershner, You Have a Date for Christmas, How About Some Law and Order Here?, Not Really News, Amazing Doctor Who, Make Room for Amy, Stay Proud - Doctor Who Fans! and much more!
Don't be a turkey!
Hosted by Louis Trapani • @LouisTrapani
Right click and download the episode using the link below or listen right on the website using the embedded player, better yet subscribe to the podcast using the feed links below the player.