You are hereSonic Newsdriver (30 April 2011) - Doctor Who News
Sonic Newsdriver (30 April 2011) - Doctor Who News
---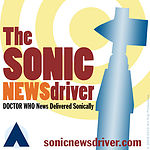 The Sonic Newsdriver 20110430
Selected Doctor Who related news delivered sonically.
For Earth-date: Saturday, the 30th of Apr. 2011
In this episode: Another Great Loss in the Doctor Who Community, It's a Miracle… Day, Another Prequel - but it's not, Jack is Back, Royal Shomyal, Doctor Who Breaks BBC America Records, Don't You Forget About Me, Doctor Who on Crackle, and more!
Plus a special bonus episode included in the podcast companion app only.
Hosted by Louis Trapani • @LouisTrapani
Right click and download the episode using the link below or listen right on the website using the embedded player, better yet subscribe to the podcast using the feed links below the player.
Rest in peace, Elisabeth Sladen. (by Louis Trapani)
The above photograph of K9 was shot and post processed on the iPhone 4 using the iOS app qbro by JellyBus Inc..