May the 4th Sunday of May Be With You or Happy Star Wars Day on May 25th!
---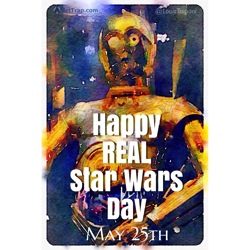 First off, everyday is Star Wars day, just as everyday is Doctor Who day for me. There doesn't need to a special day to celebrate either series. That said, every 23rd of November I try to watch episode 1 of 'An Unearthly Child' to celebrate the anniversary of Doctor Who and for almost 40 years, every 25th of May has always been STAR WARS DAY! Yes, it is the anniversary of the first release of the first Star Wars movie back in 1977 as well as the release of the final episode of the Star Wars saga completing the Skywalker storyline (I'm not including in the newly contrived upcoming Disney movies), Return of the Jedi in 1983.
Long before there was a "Geek Pride Day" or a "Towel Day" (and don't get me wrong, I'm a geek and I love The Hitchhiker's Guide to the Galaxy), I and other long time Star Wars fans have been celebrating Star Wars Day on the anniversary of it all, on May 25th. So while I am not taking away anything from those aforementioned celebratory days, the 25th of May will always be first and upmost Star Wars Day for me. If you rather celebrate it on a day that has no significance other than a coincidental pun, so be it and go for it. As I said, you can celebrate it every or any day you like.
Whether it was a 'formal' Star Wars marathon of movies (which was more doable when there was only three or less movies) in which I would often invite friends and include behind the scenes insights and even contests (I would print invitations to it, have giveaways, and even had commemorative items (such as magnets or pins) that I would make up) or sometimes I will mark the occasion more quietly carving out a piece of the day to watch one of the movies or listen to the radio dramas as I did last year while still entrenched in recovery work from Superstorm Sandy.
It's not just me and other long time fans. The Los Angeles City Council had declared Star Wars Day to be May 25, 2007 in celebration of the then 30th anniversary of premiere.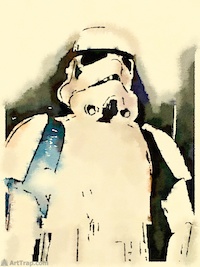 As I mentioned earlier, I love The Hitchhiker's Guide to the Galaxy and highly appreciate what Douglas Adams had to offer. So it is also Towel Day today. Great, but why? To my understanding it was to honor Douglas Adams two weeks after his passing which happened to be May 25th. Though wouldn't it be more fitting to make Towel Day his birthday than his passing… not even his passing, but every year two weeks after the anniversary of his death? We can share the day, no problem. Though as I said, I myself, rather celebrate his work and life on his birthday than annually around his death anniversary. 
We can also share it with Geek Pride Day, but that started fairly recently in 2008. You could possibly draw its origins to the unconnected Geek Pride Festival from 1998 to 2000. Again, as a geek myself, I have no problem with it, but one has to understand it was Star Wars Day for decades before it and will continue to be it even though it falls under the umbrella of what Geek Pride Day is about.
In the end, it doesn't matter what day it is, just enjoy what you enjoy. May the Force be with you, on May 25th and every other day!