Ken Deep
---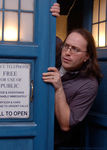 Ken Deep comes to podcasting from the traditional broadcasting medium. Having honed his skills in professional radio and television broadcasting, he applies the same vigor and enthusiasm to our podcasts.
He, along with Louis Trapani were there from the beginning of the Gallifreyan Embassy and helped to bring it to where it is today. His extensive knowledge of science fiction is evident in all our shows.
Ken continues his work in traditional broadcasting whilst also being one of the pioneers in new media. His experience interviewing people from a wide range of backgrounds is vast. From his work hosting a national show on Air America to being a voice-over talent, Ken has mastered it all and brings that experience to our podcasts.
Ken volunteers his hosting time and expertise on both Doctor Who: Podshock and Hitchhiker's Guide to British Sci-Fi.