art
---
I'm pleased to announce a new summer workshop on mobile photography titled (fitting enough), The Art of Mobile Photography.
It is often said that "the best camera is the one you have with you." In today's world, that most likely means your mobile phone. The art of making images is less to do with the gear and more to do with the photographer. The core basic principles of photography apply whether you're shooting with a DSLR (Digital Single Lens Reflex) camera or your mobile phone's camera (i.e. iPhone, Android, etc.). In this workshop, we will explore those principles and what you can do to make better images without spending a great deal money and have fun in the process.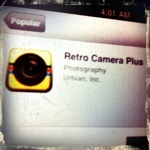 Outside of a possible coffee run or something of that magnitude, the one place you won't find me on what is known by some as "Black Friday" (the day after Thanksgiving in the States) is at a retail store. That doesn't mean you won't find me on the iTunes App Store looking for a deal.
This Thanksgiving weekend is no exception and it wouldn't be the same without some great app deals for your iOS device (Apple iPhone, iPad, iPod touch). Here are some deals I discovered this year in the Apple iTunes App Store. I may be updating this article if I find more over the course of the weekend, so check back here for possible additions or follow me on Twitter: @LouisTrapani for shout outs about them.
"I've seen many things my friend but you're right, nothing quite as wonderful as the things you see."
Doctor Who: Podshock - Episode 208
Running Time: 2:20:45
Doctor Who: 'Vincent and the Doctor' reviewed live over the net with live and recorded feedback including Ken Deep and James Naughton. (If you haven't seen Vincent and the Doctor yet, wait until you have before listening).
Hosted by Louis Trapani and Dave Cooper.
"A straight line may be the shortest distance between two points, but it is by no means the most interesting."
Outpost Gallifrey Presents:
Doctor Who: Podshock - Episode 142
Running Time: 1:30:20
John Levene (Sgt. Benton) and Ben Templesmith (Doctor Who: The Whispering Gallery) interviewed and Gallifrey 20 wrap up. Hosted by Ken Deep, Louis Trapani, and James Naughton.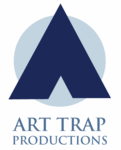 Further tweaking of the new Art Trap Productions logo. The iconic symbol how it's been put into use and with "Art Trap Productions" sitting below it.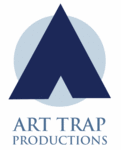 Established in 1994 by Louis Trapani, Art Trap Productions has been on the forefront of incorporating art, design, and media with emerging technologies. Encompassing traditional artwork and media with current cutting edge technologies to create everything from web design to independent movies, photography, and now new media such as audio and video podcasting.