Gadget
---
Here's another video from the floor of the PDN PhotoPlus Expo in NYC in 2012. This one is a demonstration of the modular camera flash system, the SpinLight 360. As with the previous demonstration video from this show that I had recently posted, it had been delayed for release due to the ongoing recovery efforts after Superstorm Sandy here. The video was shot entirely with an iPhone 4 using the AR-4i (which I've concluded it doesn't get along well with iOS 7 from my experience here now shooting the intro for the demo).

Three weeks ago Apple unveiled the new Apple TV. It is now housed in a mysterious black box, as opposed to the silver of the previous Apple TV. It's much smaller and without a hard disk spinning inside plus a more efficient processor, it runs much cooler.
A black mysterious box is most fitting for this product because there's still so much about it that we don't know yet.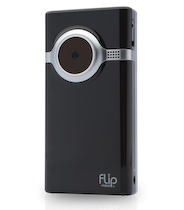 In 2005, I bit the bullet with the purchase of our first HD video camera. At the time, there was not much of a selection of HD cameras in the consumer or prosumer market. It cost a pretty penny, but it was needed for a movie we were shooting at the time. Despite the age, it is still relatively new and in working order. I will be tagging it along with me on the JumpCon tour which will begin in just a couple weeks now. So why the need to purchase another video camera? One word: convenience!
That is the main selling point as far as I am concerned with the Flip Video Mino camera by Pure Digital Technologies. Think of it as the iPod Nano (not the new stubby sized one) of video cameras. It's other major strength is simplicity. Pretty much anyone will be able to work this camera, it is no more complicated than a point-and-shoot digital still camera.
Because of the simplicity, don't expect too many features, though it does have some. To my surprise it does offer zoom... Nothing too drastic. It may be purely a digital zoom, but I am not sure at this point (again this is just my initial review).