Holidays
---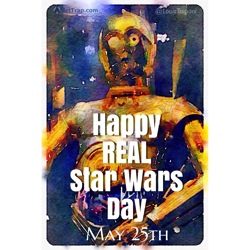 First off, everyday is Star Wars day, just as everyday is Doctor Who day for me. There doesn't need to a special day to celebrate either series. That said, every 23rd of November I try to watch episode 1 of 'An Unearthly Child' to celebrate the anniversary of Doctor Who and for almost 40 years, every 25th of May has always been STAR WARS DAY! Yes, it is the anniversary of the first release of the first Star Wars movie back in 1977 as well as the release of the final episode of the Star Wars saga completing the Skywalker storyline (I'm not including in the newly contrived upcoming Disney movies), Return of the Jedi in 1983.
"What's so special about Christmas?"
Doctor Who: Podshock - Episode 232
Running Time: 1:31:30
PDoctor Who: A Christmas Carol (the 2010 Doctor Who Christmas special) reviewed, live feedback, and more.
Hosted by Louis Trapani ( @LouisTrapani ) and Dave Cooper ( @daveac ).
"No. What?! Adric, I've given you a privileged insight into the mystery of time, yes?"
Doctor Who: Podshock - Episode 231
Running Time: 0:33:56
A 2010 holiday edition of Doctor Who: Podshock featuring Matthew Waterhouse and an interview with Paul Slocum by Anthony S Burdge, and more.
Hosted by Louis Trapani ( @LouisTrapani ).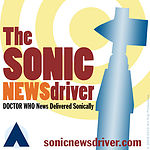 The Sonic Newsdriver 20101223
Selected Doctor Who related news delivered sonically.
For Earth-date: Thursday, the 23rd of Dec. 2010
The Game is Afoot, Bow Ties are Cool - Fezzes are Cool - The Doctor is Cool, Happy Trails to You, Be Careful What You Ask For, Jurassic Doc, Jenkins Almost Said No, Your Android Has Gotten More Sonic, and much more!
I found this sticker on this small US flag I used to adorn my home for the Fourth of July.
Happy Independence Day.
Sent from my iPhone

http://arttrap.com
http://gallifreyanembassy.org
Twitter: @LouisTrapani
On Saturday the 25th of April 2009, almost a year after loosing Harvey Korman, we send a farewell to Bea Arthur he has died at the age of 86. I will always remember her for her groundbreaking role as the strong-willed iconic Maude character in the 1970's sitcom of the same name. You may remember her from The Golden Girls sitcom of a decade later.