artist
---
"I've seen many things my friend but you're right, nothing quite as wonderful as the things you see."
Doctor Who: Podshock - Episode 208
Running Time: 2:20:45
Doctor Who: 'Vincent and the Doctor' reviewed live over the net with live and recorded feedback including Ken Deep and James Naughton. (If you haven't seen Vincent and the Doctor yet, wait until you have before listening).
Hosted by Louis Trapani and Dave Cooper.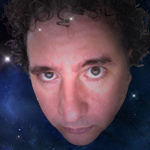 Louis Trapani founded the Gallifreyan Embassy in June of 1985 to serve the growing fandom centered around Doctor Who and other British science fiction during the mid-80s in the US. Originally a local organization with local meetings, today it is international, serving the global community.
In 1989, Louis graduated with a Bachelor of Fine Arts (BFA) degree from the School of Visual Arts in New York where he majored in the media arts department.
He formed Art Trap Productions in 1994.
"A straight line may be the shortest distance between two points, but it is by no means the most interesting."
Outpost Gallifrey Presents:
Doctor Who: Podshock - Episode 142
Running Time: 1:30:20
John Levene (Sgt. Benton) and Ben Templesmith (Doctor Who: The Whispering Gallery) interviewed and Gallifrey 20 wrap up. Hosted by Ken Deep, Louis Trapani, and James Naughton.