producer
---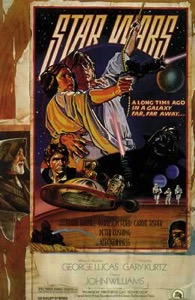 It's no secret that I have been a huge fan of Star Wars since it was released in 1977. It could even be argued that I was fan before it was even released (Sorry, Stephen Colbert, you're not alone or the first), as I was following the production and its impending release in science fiction genre media. It's without exaggeration that it had a tremendous impact on this then eleven year-old when it was released and it continued on. This post isn't focusing on that so I won't go into all the details only to say even though I was deeply into the mythology and themes of the films, it didn't prevent me from having a life outside of it.
Now in my tenth year of being a podcaster, it is by no means surprising that one of the topics I'm asked about over and over again is how to start podcasting. I always recommend starting off with the minimum essentials and then slowly building up your gear as you go along. In other words, don't make a huge investment in hardware and software initially. You can always upgrade and enhance your set up as you go along. This way, if you find it is something that isn't for you or perhaps you simply don't have the time you thought you would had when you first decided on doing it, you can stop without having invested too much money into it.
Last year we welcomed Blogworld and New Media Expo to New York with its first conference set in the Big Apple. Where does the time go? It's back again and once again it is at the Jacob Javitts Center in Manhattan this time in June (the 5th-7th 2012). 
At last year's event, I met several listeners as well as fellow podcasters and new media producers there. If you are going this year, be sure to say hi if you spot me there. Should you attend? Here's a piece I wrote a few years ago, but it still applies today: 5 Reasons to go to Blogworld & New Media Expo. 
If you hurry, you can still get the early bird discount on admission (ending tonight). Save an additional 10% NOW on your Early Bird Blog World New York 2012 registration with the code "BWAPVIP10"! Register now to save!
Doctor Who: Podshock - Episode 240
Running Time: 1:39:51
Doctor Who: Podshock Live Show recorded on stage at Gallifrey One's Catch 22: Islands of Mystery with Tracie Simpson, Paul Kasey, Cush Jumbo, Ian McNeice, Pamela Salem, and Waris Hussein on Sunday, February 20, 2011 in Los Angeles, California.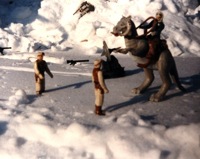 This may be old hat for long time, die-hard Star Wars fans such as myself, but Star Wars today spans several generations and you may be at different level of fandom.
Today, The LA Times ran this piece about Gary Kurtz, the producer of Star Wars: A New Hope
(affiliate link) and Star Wars: The Empire Strikes Back
(affiliate link). He parted ways with George Lucas after TESB and many would argue that Star Wars: Return of the Jedi
(affiliate link) would had been a very different film if the team stayed together.
This is not the first time that Gary Kurtz has spoken openly about how things were envisioned differently initially when he was involved.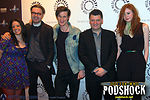 Doctor Who crew and cast at the Paley Center for Media in April 2010. We were there covering the event for Doctor Who: Podshock.
(L-R) Executive Producers Beth Willis and Piers Wenger, Matt Smith (11th Doctor), Executive Producer and Lead Writer Steven Moffat, and Karen Gillan (Amy Pond).
This photograph graced the cover of Doctor Who: Podshock 192. Listen to our interviews in it and Doctor Who: Podshock 193.
"Hello. I'm the Doctor. Basically… run!"
Doctor Who: Podshock - Episode 192
Running Time: 0:50:05
We interview Matt Smith, Karen Gillan, Steven Moffat, Piers Wenger, Beth Willis and others in NYC (part 1 of our coverage of the New York Doctor Who events of April 2010 at the Paley Center for Media, the Apple SoHo store, and the East Village Cinema), plus Paul Castle at Gallifrey 21 discusses his book, Shooty Dog Thing.
"Ah, you come to help me find the Zero Room. Welcome aboard."
Doctor Who: Podshock - Episode 168 EXTRA Edition
Running Time: 0:35:40
Picking up from our last episode with a 1985 flashback of Matthew Waterhouse (Adric) speaking about the 5th Doctor's first story, Castrovalva, plus a rare exclusive 1985 interview with then Doctor Who producer, John Nathan-Turner and more.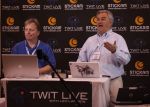 TWIT Live at NME '08: Leo Laporte streaming liveNext month is the Blogworld & New Media Expo 2009. October 15 - 17, 2009 is the first expo/confonrence after Blogworld merged with the New Media Expo. It is a trade show for anyone involved with new media. Be it podcasting, blogging, social media, vblogging, etc. there is something for you at the Blogworld & New Media Expo.
I attended last year for the New Media Expo 2008 in Las Vegas, NV and found it enlightening to be around like-minded individuals working in new media.
"250 million light years away. That's a good 10 minutes in this old thing."
Doctor Who: Podshock - Episode 161
Running Time: 1:34:55
News and Part 1 of our in-depth interview with Gary Russell
Hosted by Louis Trapani and Ken Deep.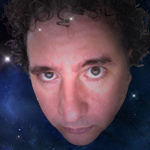 Louis Trapani founded the Gallifreyan Embassy in June of 1985 to serve the growing fandom centered around Doctor Who and other British science fiction during the mid-80s in the US. Originally a local organization with local meetings, today it is international, serving the global community.
In 1989, Louis graduated with a Bachelor of Fine Arts (BFA) degree from the School of Visual Arts in New York where he majored in the media arts department.
He formed Art Trap Productions in 1994.