fan
---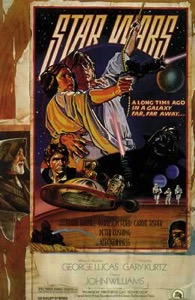 It's no secret that I have been a huge fan of Star Wars since it was released in 1977. It could even be argued that I was fan before it was even released (Sorry, Stephen Colbert, you're not alone or the first), as I was following the production and its impending release in science fiction genre media. It's without exaggeration that it had a tremendous impact on this then eleven year-old when it was released and it continued on. This post isn't focusing on that so I won't go into all the details only to say even though I was deeply into the mythology and themes of the films, it didn't prevent me from having a life outside of it.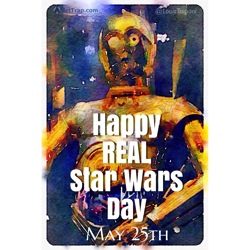 First off, everyday is Star Wars day, just as everyday is Doctor Who day for me. There doesn't need to a special day to celebrate either series. That said, every 23rd of November I try to watch episode 1 of 'An Unearthly Child' to celebrate the anniversary of Doctor Who and for almost 40 years, every 25th of May has always been STAR WARS DAY! Yes, it is the anniversary of the first release of the first Star Wars movie back in 1977 as well as the release of the final episode of the Star Wars saga completing the Skywalker storyline (I'm not including in the newly contrived upcoming Disney movies), Return of the Jedi in 1983.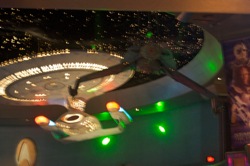 There's nothing quite like it. It was August 2008, just two weeks before the closing of the Star Trek Experience in Las Vegas, NV and there I was standing on the bridge of the starship Enterprise. It's an incredible feeling for a life-long Star Trek fan. Now this was the bridge of the Galaxy Class starship Enterprise NCC-1701-D as featured on Star Trek: The Next Generation, not the original bridge from the original series, but it was no less exciting at the time. 21 years after we first saw Captain Picard command from it, relaunching Star Trek back on television, there I was standing on what seemed to be an exact replica of the television set.
Today marks 45 years since the very first episode of Star Trek aired. It was September 8, 1966 when NBC aired 'The Man Trap' to an unsuspecting audience. It is not the "birthday" of Star Trek... die-hard fans ('Trekkers') know that the series had two pilot episodes commissioned. The first pilot, 'The Cage' dates back to 1964, and the follow-up pilot, 'Where No Man Has Gone Before,' to 1965. The first episode to air was not meant to go out first, but the suits at NBC wanted an episode with a "monster" in it (they felt it had to compete with Lost in Space at the time), 'The Man Trap' had a monster and therefore it was selected to air first.
This anniversary is bittersweet for me. It comes just a couple weeks after loosing a long time friend who had been a great Star Trek fan. It was an unexpected loss and therefore I have to say even now, I am still in shock and disbelief about it.
Doctor Who: Podshock - Episode 251
Running Time: 1:53:14
Doctor Who fandom on Second Life and beyond. Featuring the Doctor Who Fandom Panel on Second Life at SL8B with Saffia Widdershins (moderator) of Prim Perfect Magazine, Terry Lightfoot @TerryLightfoot & Oolon Sputnik @OolonSputnik of the Dirty Whoers and New Gallifrey, Sen of Hands of Omega, Dave Lewis @Doctor_No1 of Paradox Island and TARDIS Newsroom, Tristan Avedon @tristanavedon of Who Island, Victor 1st Mornington @vic1st of the Doctor Who Exposition and Katrina, and Louis Trapani @LouisTrapani of Doctor Who: Podshock.
Once again I had the pleasure of being a guest on The Chronic Rift ( @chronic_rift ) podcast with John Drew and Keith R.A. DeCandido hosting and with fellow guest, Chris S. Carothers. In this latest roundtable episode (126), we discuss fan clubs. Predominantly Doctor Who and Star Trek clubs were discussed in this episode. Chris shared information about the club, USS Richthofen, a chapter of Starfleet, The International Star Trek Fan Association, Inc., while I was there speaking about the Gallifreyan Embassy, the Doctor Who club I founded in 1985 as well as Doctor Who: Podshock.
Doctor Who: Podshock - Aftershock 20100903
Running Time: 0:08:23
James Naughton is once again attending Whooverville this year and in this brief Aftershock episode of Doctor Who: Podshock he tells us what to expect.
Hosted by Louis Trapani ( @LouisTrapani ), Ken Deep ( @kendeep ), and James Naughton ( @JamesNaughton ).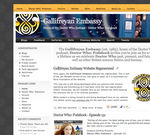 Preview the new Gallifreyan Embassy website 3.0 today! June marks the 24th anniversary of the Gallifreyan Embassy. As it heads into its 25th year, it will do it with a new website. Although much content from this existing site migrated on to it now, it is a completely new site from the ground up. Ambassadors will have to re-register on the new site. Existing accounts will need to be recreated.
Back in November 2006, to celebrate the 43rd anniversary of Doctor Who, the Gallifreyan Embassy and Doctor Who: Podshock decided to use Second Life (SL), a virtual world social networking service to bring members, audience, and all fans alike together no matter where in the world they may live.