film
---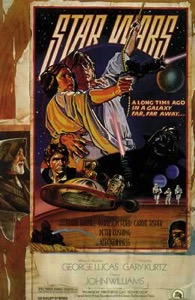 It's no secret that I have been a huge fan of Star Wars since it was released in 1977. It could even be argued that I was fan before it was even released (Sorry, Stephen Colbert, you're not alone or the first), as I was following the production and its impending release in science fiction genre media. It's without exaggeration that it had a tremendous impact on this then eleven year-old when it was released and it continued on. This post isn't focusing on that so I won't go into all the details only to say even though I was deeply into the mythology and themes of the films, it didn't prevent me from having a life outside of it.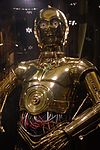 It feels like it was just the other day I was writing about the 32nd anniversary of The Empire Strikes Back because it was just the other day (it was Monday, May 21st). Though there wouldn't had been a Star Wars - Episode V: The Empire Strikes Back, if there wasn't for Star Wars - Episode IV: A New Hope, or as we knew the film back in 1977, simply "Star Wars."
Has it really been 35 years? Indeed it has though it is difficult to swallow at times. I am an original Star Wars fan. I was 11 when the film opened and it changed my life. I had always been a science fiction fan, but I knew from the very first frames of this movie that this was going to be a game-changer. Seeing that Imperial Stardestroyer fly overhead, lasers shooting over the screen, explosions that rattled the seats next to me in the theaters, I hadn't seen or experienced anything like this before that time.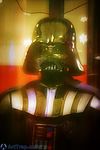 Why is May 25th the real "Star Wars Day"? The date actually has significance. It was the day the film opened in 1977. It didn't have the same fanfare as the opening of the subsequent movies in the saga, and far fewer screens which it could had been seen on back then. Though it was a different time then. Sure, a couple years before we had Jaws which may had brought in the tradition of "summer blockbusters" in the movie business, but it was Star Wars that really cemented it in.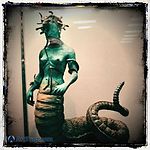 I am little late in posting this (depending on where you are in the world at least). Today (Wednesday, June 29th) was the 91st birthday of legendary stop-motion animation pioneer, Ray Harryhausen. To celebrate, I was going to post a related photo I took many years ago to Instagram, but then decided to make it a blog entry instead. (I am including the photo I was going to post to Instagram here (see top left photo), although it was shot in 1983 using an analog SLR at the time, I had post processed it on the iPhone in prep to the intended posting to Instagram. Click on it for further details).
The following is lifted from a previous article I wrote here last year about Ray Harryhausen:
A snapshot of the history of the future… Going back today to the 1960s to see how they visualized 2001 then is what this upcoming documentary, years in the making, sets out to accomplish.
A documentary that really tells the story of the making of 2001, not just the technical story but the human story, the personal story, the experiences of people who interacted with Kubrick that is really true to the style and look of 2001: A Space Odyssey.
Take a peek for yourself in this trailer promo for the documentary (sorry, I could only find Flash versions of this embedded video):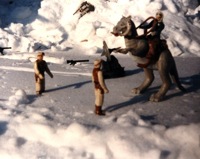 This may be old hat for long time, die-hard Star Wars fans such as myself, but Star Wars today spans several generations and you may be at different level of fandom.
Today, The LA Times ran this piece about Gary Kurtz, the producer of Star Wars: A New Hope
(affiliate link) and Star Wars: The Empire Strikes Back
(affiliate link). He parted ways with George Lucas after TESB and many would argue that Star Wars: Return of the Jedi
(affiliate link) would had been a very different film if the team stayed together.
This is not the first time that Gary Kurtz has spoken openly about how things were envisioned differently initially when he was involved.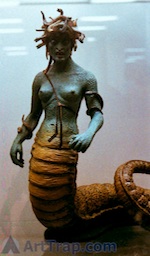 All the way back in 1983, I had an opportunity to meet Ray Harryhausen and see some of his work at a convention he was a guest at in New York. Having always been an admirer of his work, I knew then how special it was for me. What I didn't realize was just how rare it was, as I have not had that same opportunity since.
Long before CGI took over as the 'go-to method' of doing special effects in media today, a process known as stop-motion animation was the way to go. It and variations of it (Harrhausen created 'Dynamation' which allowed live-action integration) was one of the dominate methods of doing certain kind effects from the time of original King Kong (most famously) onwards until Jurassic Park changed everything (proving what CGI can do).
The Sonic Newsdriver 20090707
Selected Doctor Who related news delivered sonically.
For Earth-date: Tuesday the 7th of July 2009
In this episode: Torchwood Week (don't worry, no spoilers here), Barrowman wants to continue playing Captain Jack until he's gray, Kai Owen Demands More, David Tennant new role is no hero, Tennant is not the latest Time Lord on the big screen screen, Two moments of silences, and Get Your Sonic Gear, plus more!
Hosted by Louis Trapani
After seeing the new Star Trek film and giving some initial reactions via Twitter, people are asking me for a fuller explanation of what I thought of it. The 140 characters that Twitter offers with each tweet does not lend itself to expressing my thoughts on this new re-imagined and reboot of Star Trek, so I will use this space to explain a little further about and will most likely do a full review in an upcoming podcast.
So the new Star Trek reboot has opened. Let's not be coy about it, it is indeed a reboot. It's a relaunch of the series or "franchise" if you will. It is Star Trek for a new generation, not The Next Generation.