You are hereGene Roddenberry
Gene Roddenberry
---
The anxiously anticipated day started off very exciting. I was with my good friend, Chase Graff, though at that time he went by the name Charlie and we were sitting on a sidewalk patiently waiting on this early June day. It was the fourth of June thirty-three years ago… the year was 1982. We were first in line for the long awaited sequel to Star Trek: The Motion Picture. In hindsight, it is hard to believe that it was less than three years that had passed since the original Star Trek movie then. We were there before the theater opened  for business that day waiting. When the puzzled manager came to the theater, he was surprised to find us there so early waiting. He asked what we were waiting for and we jokingly said Das Boot, which was the other film playing at this cinema at that time. Long waits didn't bother us because we were able to talk about everything under the sun. Though on this day, I imagined the topic was mostly on Star Trek perhaps and the rumors surrounding this particular movie. There was this talk that the character Spock would die in this movie. This couldn't be so, we thought. Spock was our favorite character, after all. What would Star Trek be without Mr. Spock?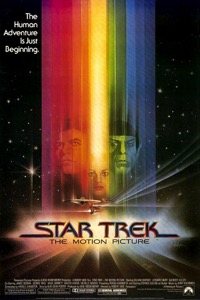 It was 35 years ago today on a chilly night not unlike tonight (well, perhaps not as cold) when Star Trek: The Motion Picture opened in the theaters in the U.S. I remember vividly going to see it for the first time. After watching Star Trek all my life on television, we were finally seeing it on the big screen. Big it was, as it captured the scale and majesty of the refitted Enterprise and more like television never could at that time.
Today marks 45 years since the very first episode of Star Trek aired. It was September 8, 1966 when NBC aired 'The Man Trap' to an unsuspecting audience. It is not the "birthday" of Star Trek... die-hard fans ('Trekkers') know that the series had two pilot episodes commissioned. The first pilot, 'The Cage' dates back to 1964, and the follow-up pilot, 'Where No Man Has Gone Before,' to 1965. The first episode to air was not meant to go out first, but the suits at NBC wanted an episode with a "monster" in it (they felt it had to compete with Lost in Space at the time), 'The Man Trap' had a monster and therefore it was selected to air first.
This anniversary is bittersweet for me. It comes just a couple weeks after loosing a long time friend who had been a great Star Trek fan. It was an unexpected loss and therefore I have to say even now, I am still in shock and disbelief about it.
Please give a listen to my friend and fellow podcaster, Allison Sheridan's NosillaCast podcast when she sits down with none other than Eugene "Rod" Roddenberry (or just Rod) in the latest episode of her "technology geek podcast with an EVER so slight Macintosh bias!"