YouTube
---
Here's another video from the floor of the PDN PhotoPlus Expo in NYC in 2012. This one is a demonstration of the modular camera flash system, the SpinLight 360. As with the previous demonstration video from this show that I had recently posted, it had been delayed for release due to the ongoing recovery efforts after Superstorm Sandy here. The video was shot entirely with an iPhone 4 using the AR-4i (which I've concluded it doesn't get along well with iOS 7 from my experience here now shooting the intro for the demo).
Being a fan of Star Wars and Nimblebit games such as Pocket Planes, Tiny Tower, and recently Pocket Trains, I was curious about their joint collaboration with LucasArts/Disney for their new title, Star Wars: Tiny Death Star. The game is now available in the App Store for free — though like many of Nimblebit titles, you can make in-app purchases for "Bux" to speed your progress of the game. The game is not under the Nimblebit name as the developer, but instead, LucasArts. 
I was surprised and perhaps slightly disappointed that it is essentially a re-dressing of the existing title, Tiny Tower just with a Star Wars theme and Star Wars style missions. That said, if you are already familiar with Tiny Tower, you will feel right at home with this new game. There are some new and different elements to it and of course, you may appreciate it on another level if you're a Star Wars fan.
We had the pleasure of meeting Karen Gillan (Amy Pond in Doctor Who) this past April (2010) covering the event for Doctor Who: Podshock. Although we were there chiefly to record audio and shot still photos, we did manage to capture some short video of the red carpet interviews (thanks to the iPhone 3GS). This is one.
This is Karen Gillan at the US premiere of Doctor Who (the 1st Matt Smith series) at the Paley Center for Media in NYC speaking of going from her first role in Doctor Who (The Fires of Pompeii) to a full time companion.
If you read my previous post, Photo Walking 2010… Officially you will know that I took part once again in this year's Worldwide Photo Walk (WWPW). It took place on Saturday, the 24th of July 2010, the same day that YouTube was soliciting videos shot on that very day for their Life in a Day project. With the material sourced from these video submissions, director Kevin Macdonald will edit select footage to create a documentary movie executive produced by famed director Ridley Scott to be shown at the Sundance film festival in January.
To whet people's appetite for I-CON 29, here is a video of the Star Wars parody band, Aerosith performing at last year's I-CON 28 (2009). "Thou Shall Not Worship False Gods" - the video may have begun while the song was in progress. The camera POV is from slightly behind or along side of the stage area. There are a couple more where this came from as well… stay tuned.
I will also be bringing you more coverage from I-CON 29 this weekend. Be sure to follow me on Twitter for updates.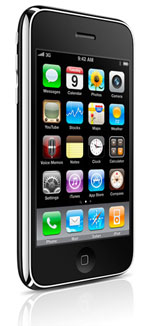 A couple weeks ago, I wrote about my first initial experience with the iPhone 3GS (My First Week with the iPhone 3GS and 3.0 OS). One of the features which I had not tested at that time was the ability to shoot video and upload it directly from the iPhone 3GS.