Blogworld
---
Last year we welcomed Blogworld and New Media Expo to New York with its first conference set in the Big Apple. Where does the time go? It's back again and once again it is at the Jacob Javitts Center in Manhattan this time in June (the 5th-7th 2012). 
At last year's event, I met several listeners as well as fellow podcasters and new media producers there. If you are going this year, be sure to say hi if you spot me there. Should you attend? Here's a piece I wrote a few years ago, but it still applies today: 5 Reasons to go to Blogworld & New Media Expo. 
If you hurry, you can still get the early bird discount on admission (ending tonight). Save an additional 10% NOW on your Early Bird Blog World New York 2012 registration with the code "BWAPVIP10"! Register now to save!
From last week: @InfoLinksInc dancers at Blogworld and New Media Expo New York (by Louis Trapani - taken on May 25, 2011 at the Jacob Javits Center in New York City). This was in promotion of their African hot air balloon ride contest.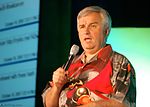 Leo Laporte Keynote at Blogworld & NME 2009
I was very excited to learn that BlogWorld and New Media Expo are doing their first east coast event this May when they announced it a few weeks ago. Previous Blogworld & New Media Expo events took place in Las Vegas, NV. For once I will now be able to attend a expo without having to fly there (I don't mind the actual flying, it is everything else that is part of the commercial airline experience I could do without).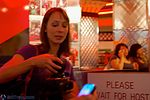 Cali Lewis ( @CaliLewis ), host of GeekBrief.TV joined us the photo walk organized by John Pozadzides in Las Vegas during BlogWorld and New Media Expo 2009. Here we stopped at a 50's style diner within the Stratosphere.
Photo by Louis Trapani
A special video edition of the Mac Roundtable podcast being recorded live at Blogworld and New Media Expo 2009
TWIT Live at NME '08: Leo Laporte streaming liveNext month is the Blogworld & New Media Expo 2009. October 15 - 17, 2009 is the first expo/confonrence after Blogworld merged with the New Media Expo. It is a trade show for anyone involved with new media. Be it podcasting, blogging, social media, vblogging, etc. there is something for you at the Blogworld & New Media Expo.
I attended last year for the New Media Expo 2008 in Las Vegas, NV and found it enlightening to be around like-minded individuals working in new media.