TV
---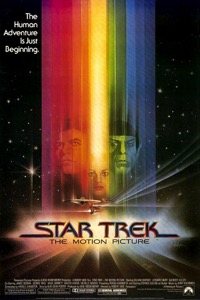 It was 35 years ago today on a chilly night not unlike tonight (well, perhaps not as cold) when Star Trek: The Motion Picture opened in the theaters in the U.S. I remember vividly going to see it for the first time. After watching Star Trek all my life on television, we were finally seeing it on the big screen. Big it was, as it captured the scale and majesty of the refitted Enterprise and more like television never could at that time.
If you haven't downloaded the free 12 Days of Gifts app from Apple yet, download it now and you will be alerted each day starting on December 26th of free gifts from Apple. These could be apps, music, movies, TV shows, books, etc. offered via the App Store or the iTunes Store. I notice Apple sent a gift today (Monday, 16th of December) already, so you might as well not wait until December 26th and get the free app now.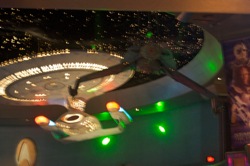 There's nothing quite like it. It was August 2008, just two weeks before the closing of the Star Trek Experience in Las Vegas, NV and there I was standing on the bridge of the starship Enterprise. It's an incredible feeling for a life-long Star Trek fan. Now this was the bridge of the Galaxy Class starship Enterprise NCC-1701-D as featured on Star Trek: The Next Generation, not the original bridge from the original series, but it was no less exciting at the time. 21 years after we first saw Captain Picard command from it, relaunching Star Trek back on television, there I was standing on what seemed to be an exact replica of the television set.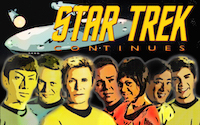 Can the original Star Trek series continue on its five year mission where it left off in 1969? The creators of Star Trek Continues think so. 
The original Star Trek series has been recast and is attempting to pick up immediately where the original series left off before it was cancelled. Can they bring back the magic of the original series in this new web-based series? Perhaps if they stay true to the spirit of the original series and the vision of Gene Roddenberry and those that shaped the original production (at least for the first two seasons) they can.

The GetGlue app (from AdaptiveBlue) for iPhone and iPod touch has been updated and with it, it has a newly enhanced user interface and more. (See my previous article, Get Glued on GetGlue for more details on GetGlue). In addition to the user interface refresh, which is a quite welcomed refresh, it also now allows you to check into "sports" in addition to the previous categories already available such as television, movies, books, music, wine, etc. Also it now offers Foursquare location check-in integration as well (unfortunately, Gowalla is not also offered as an option as well).
"I don't know where we're going but my old hand's very excited about it!"
Doctor Who: Podshock - Episode 223 EXTRA Edition
Running Time: 0:38:33
In this Extra Edition of Doctor Who: Podshock we interview a director who has worked on Doctor Who, The Sarah Jane Adventures and Torchwood: Alice Troughton. Plus Doctor Who news, and some special show announcements in this Doctor Who: Podshock Extra Edition.

Three weeks ago Apple unveiled the new Apple TV. It is now housed in a mysterious black box, as opposed to the silver of the previous Apple TV. It's much smaller and without a hard disk spinning inside plus a more efficient processor, it runs much cooler.
A black mysterious box is most fitting for this product because there's still so much about it that we don't know yet.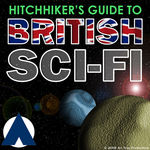 After a long hiatus, Hitchhiker's Guide to British Sci-Fi has returned. Dave Cooper @daveac joins me, Louis Trapani @LouisTrapani as co-host in this episode in which we discuss the new Torchwood series coming to Starz in the US, series 4 of The Sarah Jane Adventures, we invite our younger listeners for their reviews of K9 - The Series, plus we discuss Sherlock, The Deep, Ashes to Ashes, Merlin, and more. It also features part of an interview with Brian Croucher (Travis (2) on Blake's 7) that can be heard in full in Doctor Who: Podshock 219.
For more details, see Episode 8 of Hitchhiker's Guide to British Sci-Fi. If you are subscribing to the podcast, it is already in the feeds, or alternatively, you can download it directly here: Hitchhiker's Guide to British Sci-Fi - Ep. 8 (MP3, 39 MB)
Before getting an iPad, I belabored over the model size I should get. I knew that 16GB would be out of the question, as I have too much media. 32GB seemed right because I have been managing the same storage size on my iPhone quite well over the past year.
My plan was to sync my Aperture photo library to the iPad. After all, making the iPad a portfolio for my photography was part of the reason of getting one. With that said, the iPad has a larger screen than the iPhone 3GS. Will it need more space? iTunes may optimize the image files larger than what it does for the iPhone 3GS.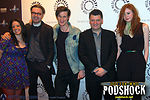 Doctor Who crew and cast at the Paley Center for Media in April 2010. We were there covering the event for Doctor Who: Podshock.
(L-R) Executive Producers Beth Willis and Piers Wenger, Matt Smith (11th Doctor), Executive Producer and Lead Writer Steven Moffat, and Karen Gillan (Amy Pond).
This photograph graced the cover of Doctor Who: Podshock 192. Listen to our interviews in it and Doctor Who: Podshock 193.
The Sonic Newsdriver 20091112
Selected Doctor Who related news delivered sonically.
For Earth-date: Thursday, the 12th of Nov. 2009
What if there was no 8th Doctor?, The Who Factor, Tennant's TV Pilot, Dreamland Dates, Get Your Mickey Fix, Get a Life, and more.
I quickly snapped this screenshot image with my iPhone after updating to the latest Apple TV software (3.0). It sports a completely redesigned top menu interface. I still need to explore more of it for other major changes.

The one thing I do hope is that this upgrade resolves the problems I would sometimes encounter when syncing with iTunes after iTunes 9 came out.
The Sonic Newsdriver 20091023
Selected Doctor Who related news delivered sonically.
For Earth-date: Friday, the 23rd of Oct. 2009
A Glimpse of the New TARDIS Interior, David Tennant Up for BAFTA Scotland Award, RTD Calls for Champion Children's TV, Sarah Jane Adventures Series 3 Underway, Tennant and Sladen Dumped From Radio Times Cover, Blue Peter Says Design Your Own TARDIS Console, BBC iPlayer Goes International at a Price, Catch Doctor Who: Podshock 165, and Get Your Sonic Gear, plus more!
Hosted by Louis Trapani