fantasy
---
Last week I had the pleasure of guest hosting on the Radio Free Caemlyn show for their weekly live 'Friday Night Trivia' show. If you missed the live show, you can still catch it along with other past recorded (audio podcast) shows along with upcoming live shows of course here on the Radio Free Caemlyn page on Talkshoe (the show I hosted was the 7/25/2014 "CLXXXI" episode, but feel free to check out any or all of the others as well). 
The Halftone by Juicy Bits (App Store link) for iOS is available for Free this weekend!
(Superman cosplaer photo by Louis Trapani)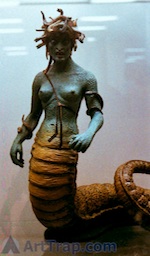 All the way back in 1983, I had an opportunity to meet Ray Harryhausen and see some of his work at a convention he was a guest at in New York. Having always been an admirer of his work, I knew then how special it was for me. What I didn't realize was just how rare it was, as I have not had that same opportunity since.
Long before CGI took over as the 'go-to method' of doing special effects in media today, a process known as stop-motion animation was the way to go. It and variations of it (Harrhausen created 'Dynamation' which allowed live-action integration) was one of the dominate methods of doing certain kind effects from the time of original King Kong (most famously) onwards until Jurassic Park changed everything (proving what CGI can do).
Friend and colleague, Amy Krell ( @AmyKrell ), is one of the producers of an upcoming original movie for Syfy (formerly The Sci-Fi Channel) titled, Witchville. It is slated to premiere on the channel on Saturday evening, the 22nd of May 2010 (9/8c).
She along with cast and crew, including Sarah Douglas spent much of their time shooting the project on location in China. Although I along with the rest of the Doctor Who: Podshock crew missed Amy while she was away, the final product shows what a difference the location shooting made for the movie.