Android
---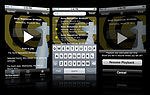 We are pleased to report that all the episodes and other content are once again available in the The Sonic Newsdriver Companion App (for iOS and Android). There had been an issue previously reported in which no content was appearing in the app after attempting to get our most recent episode posted to the app. These issues seemed to be resolved now and the app should work as intended now. If you encounter any problems, please let us know.
Last Friday's release of The Sonic Newsdriver episode (20110708) did not show up in The Sonic Newsdriver Companion App on that day due to a technical problem on how episodes are synced to the app. We have been trying to resolve the issue since, but until then, the new episode was manually added to the app today. Unfortunately, now the app is reporting that there are "No Episodes Found." This is obviously an error somewhere. We hope to have it resolved ASAP.
All the previous episodes and last Friday's new episode should be appearing back in the companion app soon. Sorry for any inconvenience this may have caused.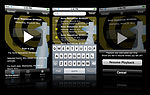 The Sonic Newsdriver app is now available in the Amazon Appstore for Android.
Already available in the Android marketplace (for apps that run on Android OS based devices), AppBrain, and of course in the Apple App Store for iOS devices (iPhone, iPod touch), the companion app for the Sonic Newsdriver podcast, a podcast which delivers Doctor Who related news sonically is now also available in Amazon.com's new Appstore for Android OS based devices.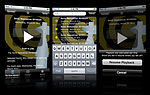 iOS screenshots
You have asked for it and now it is here: The Sonic Newsdriver podcast app for the Android platform! Having already established itself on the Apple iOS platform, now Android users will be able to keep posted on selected Doctor Who related news that the Sonic Newsdriver show brings you, along with upcoming extra content right on your Android device. No longer will you need to envy iPhone and iPod touch users, it is now available for the Android. You will never miss an episode and you will be helping to support the show as well.