Instagram
---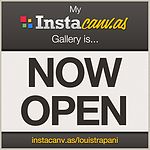 Prints of my Instagram photography are now available for purchase in my Instacanvas Gallery. Canvas prints, frame prints, prisms, and cards of photographs from my Instagram feed are available. I only make 20% on each sale, but in these trouble times, every little bit helps.
If you enjoyed a photo you had seen in my Instagram feed (or posted elsewhere originating from Instagram) and would like have a print of it and help out the photographer a bit, check out what is available in my Instacanvas Gallery.
The infographic below is from Followgram. It depicts some "fun facts" about Instagram. According to the note on the bottom of the infographic, Techcrunch and the Instagram blog is the source of the data in the graphic.
Having been on Instagram from just a week after they launched, I have seen how they have grown and matured as a social network. Most recently they announced that they have passed 7 million in users. It was only in June when they had hit 5 million. I remember each of these milestones as Instagram hit them. This infographic illustrates them as well other interesting facts.
I understood it was new when I started using it, but I don't think I knew that it was only one week after it launched when I took my first Instagram shot on my iPhone on that fateful Wednesday, 13 October 2010 (Instagram was launched the week before on the 6th). It seemed to be the natural successor to my Project 365 at the time. Indeed it was, but it has been so much more.
Instagram has just celebrated their 150th million photo shared via its service. They are seeing Instagrammers sharing photos at the rate of 15 photos per second. They have also seen incredible growth since launching with more than 7 million users now.
For those uninitiated, Instagram is a free app in the Apple App Store (currently only for iOS devices) which allows you to share your stories via photos and words. It is Twitter meets Flickr in a sense. Like Twitter, you follow people and people can follow you. If a picture is worth a thousand words, then it is thousand more than what you can convey in a 140 character tweet on Twitter.
The King Camera (App Store link) for iOS had an update appear in the Apple App Store on Wednesday, June 29th which finally includes the 1:1 aspect ratio cropping pre-set. It boggles the mind that it was released in the first place without it considering that there are now over 5 million Instagram users, all of which are iOS users (at this time) and all of which are using 1:1 aspect ratio that the app supports. It's an audience that any photo app shouldn't ignore. Many Instagram users are looking to 3rd party photo editing apps to complement what they can do with the Instagram app.
Now with the much needed 1:1 aspect ratio cropping pre-set included in King Camera, I can now recommend it to Instagram users. No longer does one need to eye-ball it to get the 1:1 aspect ratio square crop in King Camera as I did with this image here (see top left) which I had post processed with King Camera and posted to Instagram.
It's been awhile since I posted a "Flashback Friday" photo. Here I am being dwarfed by the huge fountains in Rome almost 36 years ago now.
This photo was posted to Instagram as for "Flashback Friday" (which as the name implies, is an opportunity to pull out a photo from the past to share). This photo was taken by my Mom using a 110 point & click film camera. It was post processed on the iPhone using the 100 Cameras in 1 - Stuck In Customs (App Store link) by Trey Ratcliff @TreyRatcliff which I was playing around with for this image. It looks a bit better on the smaller screen of the iPhone than here on the website.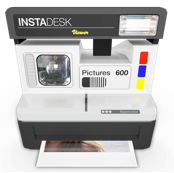 Being an avid Instagram user, I was excited to learn that there is a new client app for the social photo sharing service on the Mac. A third party app, called InstaDesk [UPDATE: Now titled] PhotoDesk - for Instagram (App Store link).
Since Instagram opened their API to the public, there have been several new options for third party Instagram clients or web interfaces. For example, on the iPad there is InfinitGallery - browse Instagram photos - InfinitApps (App Store link) and Flipboard: Your Social News Magazine - Flipboard Inc. (App Store link) which will allow you to access your Instagram account. There are several web interfaces available as well, my favorite has to be Webstagram.
With the exception of posting photos and applying filters, you can basically do everything you can do on the official Instagram app (currently only available for the iOS) and more using Instagram API. Again, the best example of implementing the API is probably Webstagram that I have seen so far. As good as Webstagram may be though, it is still a website, not an application.
I took this photo on the iPhone 4 using the camera app HDR Fusion - Cogitap Software (App Store link) and then applied the Lo-Fi filter in Instagram which I used to share the photo.
This is a statue of the iconic WWII image of American soldiers raising the flag at the War Memorial in Eisenhower Park.
This photo of Grace Lee Whitney I took in 2007 at the New England Fan Experience convention via my DSLR, and post processed today on the iPhone using Photo fx and PictureShow before sharing via Instagram.
This photograph was taken with the iPhone 4 using the HDR Fusion app, post processed in the 100 Cameras in 1 app and posted via Instagram.
Photo taken on the iPhone using Instagram.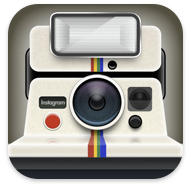 If you follow me on Twitter @LouisTrapani (or Facebook), you will probably already know that I use Instagram a good deal even though I only post a fraction of what I take to Twitter (I try not to flood my Twitter feed with all the photos I post to Instagram. Perhaps that will change at some point, in the meantime, if you are not using Instagram itself (currently only available for the iOS) and following me there (username: LouisTrapani), you can catch most of my postings via my Posterous site). If you are not familiar with Instagram, see my post from October 2010 when Instagram had just launched, I was INSTAntly addicted: Insta-Addiction to Instagram.
Instagram is having a Worldwide InstaMeet on March 24, 2011. What is the Worldwide InstaMeet about? To quote Instagram's blog about it, "The goal of the Worldwide InstaMeet is simply to get together with other Instagrammers in your area."