Facebook
---
It was more than five weeks ago that I first entered the new Google+ social networking platform as a "field beta tester." It certainly is hard to believe it has been that long already. This coming Monday or Tuesday will be six weeks since the initial beta launch of the service, but I guess as the old saying goes, "time flies when you're having fun."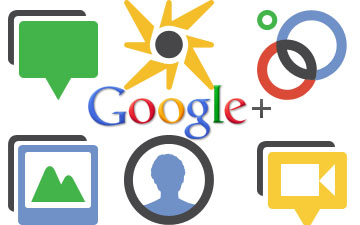 The last several days I have been testing and trying out the new social media platform, Google+ which is currently in limited beta by (no surprise) Google. Before you ask, Google had disabled invites for the time being due to overwhelming demand. So I have no invites to share at this point. That said, it seems that Google does open the barn door from time to time (unannounced). So you may be able to get in if you are lucky enough. (Many people have already requested an invite from me, when I can, I will try to give them to those friends and followers that have requested one from me.)
What is Google+? The easy answer is to say that it is Google's answer to Facebook. While that may be true on certain levels, it is its own social networking service built on existing Google technologies with others added. Some may use it instead of Facebook, others may use it in addition to Facebook, some may not use either. In my experience so far, it has a similar vibe to what Friendfeed was back in the day, just without the automatic feeds pumping into it.
You may be saying, "But what about Google's previous attempts of social networking, like Wave or Buzz?" I never thought of Wave so much as social networking, but more as a communication tool similar to email, but that is another matter. I believe Google has learned from those experiences and Google+ is something other, grander than what Wave was or Buzz is today.